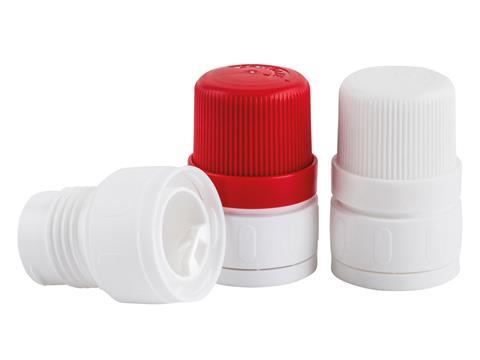 Leading glass and plastic container packaging specialist, Pont Packaging has launched an innovative new infusion cap system which adds a subtle design twist to the packaging and presentation of bottled sports nutrition products such as energy drinks and supplements.
Stephen Compson, CEO of Pont Europe group, explains to Packaging Europe the TWINCAP development resulted from a combination of discussions with its key customers and an understanding of the need to innovate in the dynamic VMS market. He comments, "We saw a strong demand for the dosing of vitamins into liquids and have developed a quality dosing system with an attractive design to address consumer needs."
Premixed liquid vitamins rapidly lose their potency. "TWINCAP overcomes this problem with a fresh infusion of full strength vitamins just prior to consumption," Mr Compson shares. "We believe it will be attractive to athletes as well as recreational drinkers since TWINCAP can also be used for fruit concentrates, syrups and diet drinks."
The brand new TWINCAP system primises greater and improved shelf appeal compared with existing solutions. A simple twist of the top cap activates an internal cutting technique which breaks the liner seal enabling the chamber contents to fall into the bottle. One simple shake of the combined contents ensures the mixed drink is immediately ready to consume.
Its 7ml chamber can accommodate granules, powders or liquids and the induction heated seal keeps the product fresh. The current TWINCAP product fits the PCO1810 neck finish and can easily be adapted to fit any other neck size. The cap is made in PP, which makes it easily recyclable for an environmentally responsible approach.
TWINCAP also guarantees a perfect product integrity thanks to its double Tamper Evident security band and can be offered in any colour to match corporate or brand identities.
Compson concludes: "Our knowledge of the vitamins market and the close relationship with our customers within this sector allowed us to clearly identify a need for a consumer oriented and functional solution for a vitamins and mineral infusion system." This has resulted in a cost effective, easy-to-use and multi-functional solution which brings a refreshing dimension and attractive design to the market.
For further information or samples, please contact Wanda van Holland at w.vanholland@pont.nl or +31 36 539 45 39
This post was sponsored by Pont Packaging.