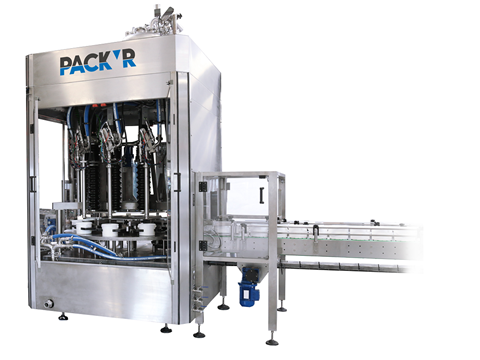 PACKR PR10 is a step by step filler capper tested and appreciated by many customers worldwide. It is available in various standard configurations, also with optional features.
This versatile machine has the ability to fill both bottles and pails ranging in sizes from 1L to 20 litres. This machine is adapted for food industry (Mayonnaise, Sauce, Vinaigrettes, Edible oil..) and also for Chemical industry (chemicals, agrochemicals, lubricants…), available in ATEX design (Explosion proof design).
Empty containers are introduced in a starwheel and the operations are made step by step on each station. The nozzles and capping heads are static.
PACKR's strength lies in its technical know-how and latest innovations in order to meet each Customer's specific requirements:
› Modularity and versatility of this machine› The PACK'R step by step rotary filler capper can handle a lot of container shapes with its «Click&Play» system for a quick format changeovers : from pails to jars (bottles, jerrycans...)› Small footprint with its compact design
More info: