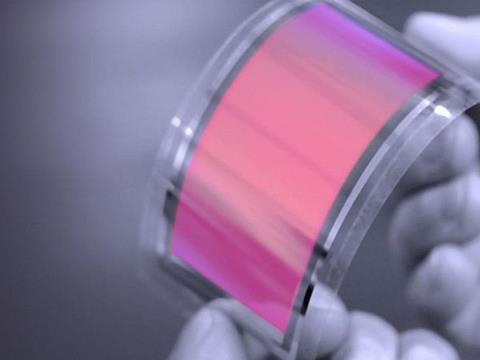 OTI Lumionics, a developer of advanced materials and manufacturing processes for OLEDs, has announced the launch of its Aerelight for Print technology, an innovative solution that enables light-up elements in print media using paper-thin flexible OLED panels.
"OLED panels have traditionally been too expensive and fragile to use in any application outside of high-end smartphone displays or TVs," said Michael Helander, President & CEO of OTI Lumionics. "To make OLEDs suitable for print applications, we had to develop entirely new manufacturing technology and advanced materials, including our proprietary FlexTorr™ Encapsulation."
"We are constantly looking for innovative applications for OLEDs that our unique materials and manufacturing technology can help to enable or improve," said Ray Kwa, Senior Product Designer at OTI Lumionics. "To fully utilise the flexible form factor of the OLEDs, which differentiate them from other light-emitting technologies, the challenge was to integrate them into print media in a way that was seamless and discreet."
To demonstrate Aerelight for Print, OTI Lumionics partnered with Flash Reproductions, a print production company, and Frontier, a graphic design studio, to collaborate on an interactive light-up front cover for the third issue of Frontier's annual magazine. The cover, which is no thicker than regular cardstock, includes an embedded flexible OLED panel that lights-up by interacting with a designated area of the page.
"With OTI's advanced materials enabling flexible OLEDs at a much lower cost, Aerelight for Print opens the door for the print and packaging industry to creatively help companies increase overall brand value and awareness in new and innovative ways using traditional print media," said Kwa. "The possibilities are nearly limitless, and we are really excited to launch this new technology and look forward to working with print and packaging industry partners on future scale-up."