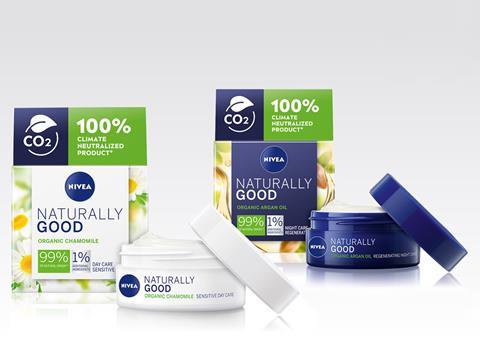 From June onwards, the packs for Nivea's Naturally Good face care product range will be made from SABIC's "certified renewable" polypropylene.
The new solution is based on the principle of mass balancing, in accordance with the International Sustainability & Carbon Certification (ISCC PLUS) scheme. SABIC says that the raw material base for the plastic is certified renewable tall oil, which is a 'second generation' feedstock and a by-product of the forestry industry.
According to the companies, approximately 76g of CO2 is saved per jar produced, a reduction of around 60% compared to the fossil-based jar. Any remaining emissions that cannot be avoided or further reduced during the manufacturing of the product are – climate-neutralized via carbon offsetting, through afforestation projects.
This is an entirely new step for Beiersdorf, Nivea's parent company, and its largest skincare brand. The NIVEA Naturally Good face care range, which is comprised of eight products, will be clearly recognizable as 'climate-neutralized' on-pack and on-shelf.
"We are proud to be a pioneer among our industry in the field of renewable plastic packaging. The ambitious targets we have set ourselves with our CARE BEYOND SKIN Sustainability Agenda are being put into practice with a great deal of commitment and hard work," says Jean-François Pascal, vice president corporate sustainability at Beiersdorf.
"The certified renewable plastic we source from SABIC has no visual effects or other adverse properties. Accordingly, the jar made of renewable PP is neither visually nor haptically distinguishable from the previous packaging. In addition, SABIC pursues a holistic sustainability approach with its feedstock concept. That convinced us," adds Hannah Rasel, senior packaging specialist at Beiersdorf.
This new announcement is part of Beiersdorf's Plastics Pledge, which sets the following targets for 2025: To make 100% of its packaging reusable, refillable, or recyclable, to increase the share of recycled content in plastic packaging to 30%, and to reduce the use of fossil-based virgin plastic by 50%.