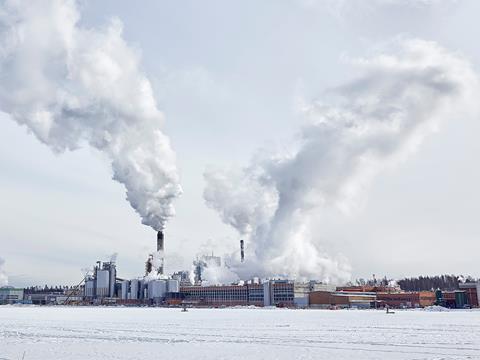 Packaging companies have been joining the wave of businesses from different sectors in releasing statements denouncing Russia's war in Ukraine and its immense cost for their Ukrainian colleagues and consumers. Many have withdrawn or suspended operations in Russia in response and others have kept some of their operations active.
On 2 March, Stora Enso announced that it would "stop all production and sales in Russia until further notice," as well as halting all imports and exports to and from the country. The company added that it has put in place a plan to enable it to obtain input material from alternative sources. It is also reportedly providing donations to UNHCR.
The renewable materials company employs around 1100 people across its two sawmills and three corrugated packaging plants in Russia. The announcement states that: "Stora Enso's sales in Russia is approximately 3% of total Group revenues. The impact on Stora Enso's sales and EBIT is not material."
Tetra Pak has restricted production to essential food items and suspended any new investment, while Tetra Laval- the group that Tetra Pak belongs to- is donating a total of 10 million euros to support humanitarian efforts. It notes that it will become increasingly difficult to provide food to Russian consumers, who will be affected by the disruptions in manufacturing, processing, packaging, and delivery.
"We are focused on enabling the safe distribution of food to everyone, especially children," a Tetra Pak spokesperson said. "At the same time, we recognize that the geo-political situation is very volatile, and things could change suddenly, including an adverse impact on global logistics, which is already seeing significant disruptions."
Mondi has announced that they have not halted operations in Russia. According to their recent statement, these operations make up 12% of the Group's revenue by location of production and have accounted for 20% of its underlying EBITDA over the past three years.
The company employs 5,300 people in Russia across its three converting plants and a mill in Syktyvkar- its main facility there. In its statement, the company explained that the mill is not financed directly by Mondi and includes an integrated power plant providing energy and wastewater treatment.
The mill, Mondi outlines, is "legally required by the Russian authorities to provide the energy supply" to the local communities that it serves. The company also said that it would donate a million euros to the United Nations World Food Programme to support its efforts to provide aid to those affected.
Meanwhile, a DS Smith spokesperson explained that the company has no operations in Russia, but that their Ukrainian corrugated packaging partner RKTK has a "small subsidiary site" in the country. They said that the company is striving to assist their partner and its employees, and that they are working to support humanitarian efforts, adding:
"Our exposure to Russian and Belarusian supply chains is extremely limited. We are ceasing all supplier relationships in Russia, and we have also stopped taking orders from our packaging customers there.
"Additionally, we continue to monitor and respond to the rapidly changing situation and are working closely with customers that are impacted to support them through our network of facilities across Europe."
Berry Global has a facility in central Russia producing packaging for essential products. A spokesperson explained that "Berry Global is closely monitoring its operations at this facility and will no longer provide capital for new projects in Russia."
They went on to explain that although Berry has no operations in Ukraine, its operations in Poland- around 150 miles from the Ukrainian border- are working on supporting the refugees. "In addition to site-specific efforts to collect goods for refugee assistance," they said, "Berry Global is matching employee monetary gifts to designated non-profit organizations that are providing humanitarian relief during this crisis."
A statement from Amcor's CEO Ron Delia on the company's operations in Russia was released today, outlining that Amcor has three factories there, accounting for 2%- 3% of the its sales. According to the statement, the company will be dialing back its operations in the country by suspending any new projects and investments as well as halting exports from Russia "as soon as possible". The statement explained that Amcor will continue to manufacture for "existing multinational customers".
The company has also reportedly pledged a minimum of USD1 million to support its colleagues in Kharkiv- where it closed its site prior to the beginning of the armed conflict- and for humanitarian aid through its partnership with the International Red Cross. "This includes a matching contributions program open to all Amcor colleagues around the world," it explained.
Smurfit Kappa, which has operations in Russia, has not released a statement about the company's response to the war. The company had three plants in St Petersburg and, in 2017, it also acquired the Moscow-based packaging company Soyuz. According to a press release from the company, this move enabled it to establish itself in Russia, reportedly making it the "the leading international corrugated packaging supplier in Russia" at the time.
UPDATE: Smurfit Kappa Group (SKG) released a statement on 1 April, after this piece was published. In the statement, the company announced its decision to "exit the Russian market". It noted that it had "suspended support for its Russian operations" by the time of the announcement, including imports and exports to and from the country as well as any funding- both short and long term.
The company says it will continue to pay employees and fulfil its legal obligations during its exit from Russia, which it notes will be carried out "in an orderly manner". SKG's Russian business accounts for less than 1% of the company's forecasted sales, the statement further outlines.
The company also reported offering humanitarian aid and helping the families of its Ukrainian employees and contractors. It says that it is providing funding to the Red Cross as well as "products and services to support the relief effort together with financial assistance to a number of aid agencies".