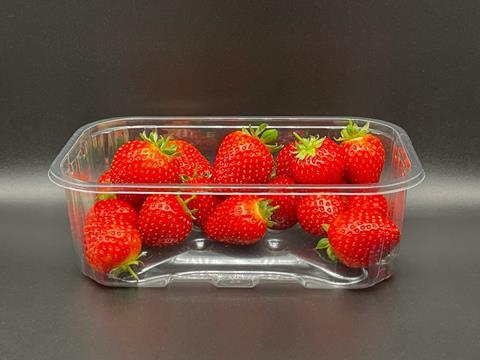 Novolex brand Waddington Europe has unveiled what it claims is a 100% monomaterial punnet for soft fruit, which uses the company's MONOAIR cushion technology to protect products while apparently reducing plastic content.
The new punnet from Waddington is aimed at replacing traditional punnets that include a layer of bubble padding attached to the base with glue adhesives to protect soft fruit from bruising and spoiling in transit. This padding must usually be removed for the container to be recycled.
Waddington says the new punnet uses its MONOAIR technology to offer consumers an easier recycling experience, claiming that the whole punnet can be put into recycling bins without separating the bubble padding.
According to Waddington, the production of the punnet requires less plastic than alternatives with added bubble padding and it can reportedly be recycled back into food-grade packaging rPET.
Eduardo Gomes, managing director of Waddington Europe, comments: "The MONOAIR cushion is now integrated into the base of Waddington's 100% recycled PET (rPET) punnets, eliminating the need for a separate bubble pad.
"That conserves resources without compromising on the high standards of product protection and quality that our customers have come to expect from Waddington Europe.
"We also took the opportunity to redesign and downgauge the punnets so that they now contain 30% less plastic than before while still maintaining their excellent structural integrity."
Earlier this year, Waddington announced its TamperVisible range of protective packaging for sauces, soups, desserts, and ready-meals, which is partially made of high clarity rPET and can be microwaved.
Meanwhile, in April, Sharpak launched its SP Airlite range of recyclable, monomaterial strawberry punnets that are designed to protect the fruit without bubble padding and offer an 18-20% reduction in plastic weight over current packs. Graphic Packaging International has also developed a ProducePak Punnet made from recyclable paperboard, which it claims offers the same shelf-life for produce as plastic alternatives.