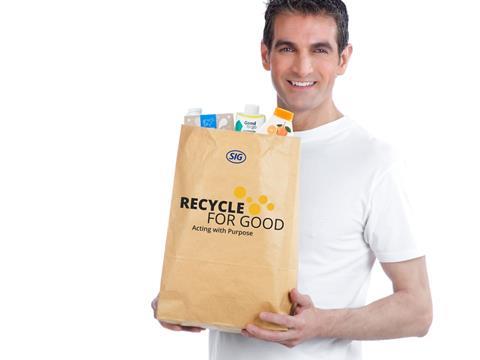 SIG and Tagaddod are launching Recycle for Good, a new recycling initiative utilising tech-based solutions to collect and recycle used aseptic carton packs from household and food service waste streams in Egypt.
Reportedly the first project of its kind in the country, Recycle for Good allows consumers to schedule the collection of their used cartons via a mobile app. In doing so, they are said to receive rewards – a feature that is hoped to encourage households and companies to raise their recycling rates. Only 20% of plastic food and kitchen packaging material is currently recycled in Egypt, according to previous studies.
Household brand Green Pan is set to work alongside Tagaddod's existing logistics network to enable the collections themselves to take place. As a result, SIG hopes that the paperboard, aluminium, and polyethylene supposedly contained in its aseptic carton packs will remain in circulation and be recycled into new products.
"Changing behaviour is critical to enable lasting positive change for the environment," said Abdelghany Eladib, president and general manager for SIG in the Middle East and Africa. "Recycle for Good aims to stimulate a change in people's attitudes by demonstrating the value of recycling to individuals and communities.
"We are proud to partner with Tagaddod on this initiative. As the first initiative of its kind in Egypt, it represents a major milestone for the country in its drive towards enhanced contribution to a circular economy."
Nour El Assal, CEO and co-founder at Tagaddod added: "We are delighted to be partnering with SIG on the 'Recycle for Good' programme, which is another breakthrough for Tagaddod in transforming its vision into actions, using our technology and resources.
"Tagaddod has the infrastructure, network, and vision to further mobilise and accelerate Egypt's transition towards a circular economy. With this initiative, we will expand our reach to retract high-grade, high-value food-grade cartons and put them back in circulation, while creating reliable additional income for households and waste collectors.
"It is long-term positive impact and value creation at their best."
Last year, supermarket chains Co-op and Lidl announced in-store collection schemes. Co-op's rollout came on the heels of a 50-store film collection trial in which a supposed 86% of shoppers were likely to use the service, while Lidl sought to recycle the plastic into refuse sacks and rigid construction products.
In a recent collaboration with Miracle-Gro and Dobbies Garden Centres, Veolia aimed to collect low-density polyethylene bags from its customers to reprocess them into other products, from new bags to garden furniture.