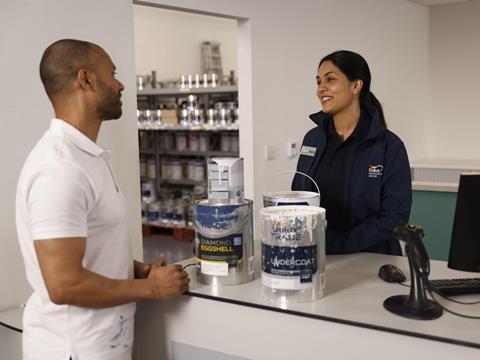 Dulux Decorator Centre claims that its can recycling scheme has surpassed one million paint cans, an achievement thought to have contributed to the reduction of construction waste ending up in landfill.
The scheme, undertaken in collaboration with Veolia, is said to be free of charge and aims for resource efficiency in the use of canned paint. Customers can apparently recycle their dry or empty metal or plastic paint cans from Dulux, Dulux Woodcare, Armstead, Cuprinol, Sikkens, and Hammerite – this includes cans that have contained emulsions, undercoats and primers, and gloss, floor, exterior or masonry paints.
Any leftover paint from returned cans is apparently donated to Community RePaint, a Dulux-sponsored paint reuse network aiming to prevent waste by re-selling it at an 'affordable price'. Supposedly, metal cans are remelted into new steel, while plastic cans are shredded, washed, and returned to the plastic market.
Dulux Decorator Centre keeps a record of the number of paint cans individual customers have used and sends them a yearly certificate bearing the percentage of cans they recycle in comparison with their total use. This is thought to allow specifiers to identify decorating contractors by their recycling rates and reward sustainability efforts.
Duncan Lochhead, commercial sustainability manager at Dulux Decorator Centre, said: "As a champion of sustainable building practices, Dulux Decorator Centre is incredibly proud to have received one million paint cans under its recycling scheme.
"According to the Construction Leadership Council, the construction of our built environment produces the largest waste stream by tonnage, and though we recognise that we have a long way to go, recycling paint cans is a step in the right direction and an easy way to reduce the environmental impact of a project.
"We encourage architects, specifiers, and designers to include a clause in their painting specifications requiring all empty paint cans to be recycled using the Dulux Decorator Centre can recycling scheme."
Donald Macphail, chief operating officer of Treatment at Veolia UK, added: "This is a great example of an industry coming together to make a real difference to improve recycling. To reach our net zero goals we must take every opportunity to cut climate-changing carbon emissions.
"By recycling high-density polyethylene (HDPE) paint pots, up to 88% of the carbon emissions are saved compared with using virgin materials, and using recycled steel and tin saves around 60% of the emissions against extracting new resources. This is just the beginning of the journey and I encourage all in the industry to utilise this service as together we can make a huge difference to deliver ecological transformation."
evian is currently encouraging consumers to return used beverage cans and bottles to Sainsbury's stores as part of the 'Return4Reward' digital reward scheme.
Veolia has also been working with Miracle-Gro and Dobbies Garden Centres to set up collection points across various garden centres and run a collection and recycling scheme for LDPE bags.