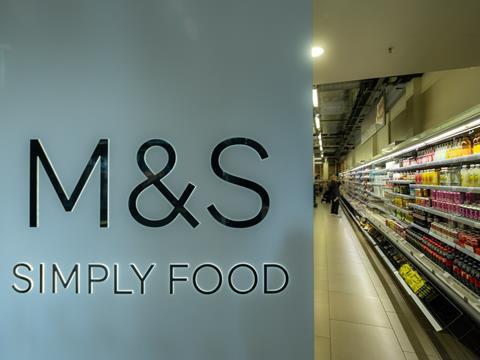 Marks & Spencer (M&S) has replaced the 'Use By' dates on its fresh milk packaging with 'Best Before' alternatives in a bid to halve food waste by 2030 and reach net zero by 2040.
Reportedly, milk has undergone an improvement in quality and shelf life in recent years. As a result, M&S believes that switching to 'Best Before' dates will enable customers to judge the freshness of milk for themselves before throwing it away.
In turn, it is hoped that WRAP's prediction of 490 million pints of milk wasted in the UK every year will be reduced, with 12 million 4-pint bottles of RSPCA Assured M&S Select Farms Semi Skimmed milk said to have been sold last year.
Applying to its RSPCA Assured Select Farms British and organic fresh milk across all its UK stores, the change claims to make M&S the first retailer to apply 'Best Before' labelling to fully recyclable milk bottles after it removed coloured plastic caps from its milk earlier in 2023.
Its latest Family Matters Index adds that 72% of families in the UK are making efforts to reduce their household waste. Over half, or 55%, emphasise the importance of the shops they regularly visit putting measures in place to help them in this endeavour.
"Milk is the third most wasted food in the home behind potatoes and bread, with around 490 million pints poured down the drain every year - 18 and a half per household - worth £270 million," explains Catherine David, director Collaboration and Change at WRAP. "The main reason is not drinking before the Use-By date.
"By changing its British and organic fresh milk to a Best-Before date, M&S is instantly helping its customers save money and cut waste by giving them more time to consume the milk they buy. WRAP's joint Best Practice with the Food Standards Agency , Defra and Dairy UK states to only apply a Use-By date when required for food safety reasons, and it's fantastic to see M&S - a Courtauld 2030 signatory - making this switch.
"This type of change to labelling is fundamental in helping people reduce household food waste, which currently tops more than 6.6 million tonnes each year across the UK."
Victoria McKenzie-Gould, director of Corporate Affairs at M&S, continues: "Since we launched Plan A in 2007, we've been taking action on our roadmap to net zero and on the issues that matter most to our customers. It's never a job done but over the past year our colleagues have done a fantastic job – from being first to market on higher welfare chicken to removing 75m units of plastic packaging.
"We know tackling food waste is a priority for our customers and we're confident that these small changes to the packaging of our RSPCA Assured fresh milk, will make a big difference – as seen when we led the way in the removal of best before dates on our fruit and vegetables."
This refers to the company's removal of 'Best Before' dates from over 300 fruit and vegetable products in another move encouraging consumers to determine the edibility of a product with their own eyes. At point of purchase, M&S employees scan a code to ensure the freshness and quality of the food before it is sold.
Similar removals took place for nearly 250 fresh fruit and vegetable products at Asda and nearly 500 of Waitrose's products last summer.
More recently, M&S introduced a 'Bring Your Own Bag' scheme for click-and-collect orders – aiming to cut down on 10 million units of plastic waste annually.
If you liked this article, you might also enjoy:
McDonald's Director of Sustainability in Europe on the company's approach to packaging sustainability
McKinsey on whether or not on-pack sustainability claims affect consumer spending
Perspectives from industry-leading experts on the EU's Packaging and Packaging Waste Directive revisions
A deep dive into the most important packaging sustainability trends and solutions