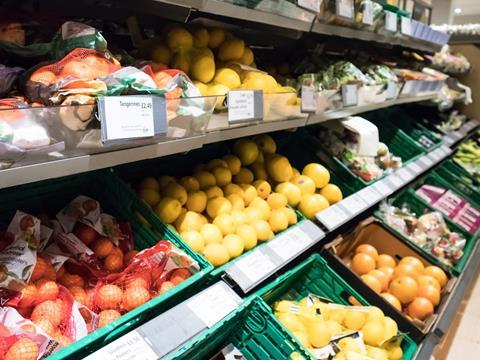 Waitrose has announced plans to remove 'best before' dates from nearly 500 products, including root vegetables, fruits, and indoor plants, starting in September.
From September, Waitrose says it will remove 'best before' dates from nearly 500 products including lettuce, cucumber, peppers, onions, tomatoes, mushrooms, celery, potatoes, root vegetables, leeks, melons, pineapples, apples, pears, citrus fruits, plums, grapes, potted herbs, and indoor and outdoor plants.
Waitrose says the removal of 'best before' dates is aimed at reducing food waste by encouraging consumers to use their judgment as to whether a product is suitable to eat. The retailer claims that, in the UK, 'best before' dates are designed to showcase food quality to customers, rather than safety.
Marija Rompani, director of sustainability & ethics at John Lewis Partnership, explains: "Food waste continues to be a major issue and in the UK alone 70% of all food wasted is by people in their own homes. UK households throw away 4.5 millions tonnes of edible food every year, meaning that all the energy and resources used in food production is wasted.
"By removing best before dates from our products, we want our customers to use their own judgement to decide whether a product is good to eat or not, which in turn, will increase its chances of being eaten and not becoming waste. By using up existing fresh food in our homes, we can also save on our weekly household food shop, which is becoming an increasingly pressing concern for many."
"The objective builds on our existing commitment to help our customers reduce their food waste by 2030. By working with WRAP to bring this initiative to life, we're delighted to help our customers play their own role in tackling this global issue."
Waitrose adds that 'use by' dates will still be in place across products for safety, noting that eating food after its 'use by' date could result in food poisoning.
Catherine David, director of collaboration and change at WRAP, comments: "Wasting food feeds climate change and it costs people money. Best Before dates on fruit and veg are unnecessary and create food waste because they get in the way of people using their judgement when food is still good to eat.
"We are absolutely delighted by this move from Waitrose which will help stop good food ending up in the bin. We estimate that removing dates on fresh fruit and veg could save the equivalent of 7 million shopping baskets of food from the bin, which is huge."
Last month, M&S also announced that it would be removing 'best before' dates from over 300 fruit and vegetable products and replacing them with a code that can be scanned by staff to check freshness and quality.