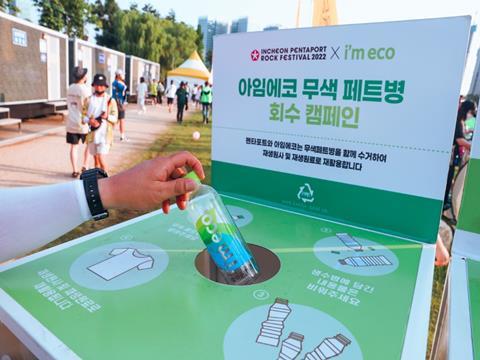 TotalEnergies Corbion has announced that it is buying reprocessed PLA waste to recycle into its Luminy rPLA brand, which claims to share the properties and certifications of virgin Luminy PLA.
Its efforts are hoped to contribute to the wider collection, sorting, and cleaning of PLA waste, and to facilitate a market for PLA recycle streams in the packaging industry.
The company identifies the NaKu water bottle as a positive example of PLA packaging, with the bottle said to be made from 100% biobased plastic and 20% certified recycled content – features thought to verify its complete recyclability. The bottles are reportedly collected, sorted, and cleaned after use, at which point they are mechanically recycled for use in other applications.
Furthermore, Sansu is said to utilise TotalEnergies Corbion's Luminy PLA for its own water bottles. Unlike NaKu's, its PLA is reported to undergo advanced recycling, where it becomes Luminy rPLA; the recycled content is supposedly SCS certified, with the rPLA claimed to have the same mechanical properties and certifications, including food contact, as virgin PLA.
"At various jazz and music festivals in Korea, PLA drinking cups are exclusively used," said ChowPin Tan, senior business development director Asia Pacific at TotalEnergies Corbion. "The cups are collected, sorted, and sent for advanced recycling in our plant in Thailand. This close loop concept is not new and with the advanced recycling that TotalEnergies Corbion has developed, this is now a reality."
The company recently announced the results of a sorting test carried out in collaboration with TOMRA Recycling, in which it was supposedly proven that PLA could easily be sorted from other plastics in municipal mixed plastic waste streams.
It entered a long-term collaborative agreement with Danimer Scientific, Inc. for the supply of rPLA earlier this year, and TotalEnergies aims to produce feedstock from hard-to-recycle plastic waste at an advanced recycling plant it is building in Grandpuits, France.