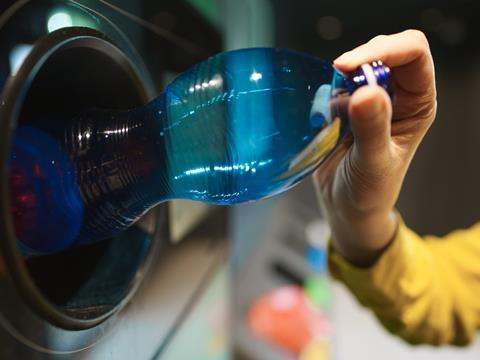 At the end of its first year in operation, Slovakia's national deposit return system (DRS) has reportedly received 820 million returned containers and exceeded its expected return rate at over 70%.
Said to be the first of its kind in Central Europe, Slovakia's national DRS was launched on 1st January 2022, aiming to meet the requirements of the European Union's Single-Use Plastic Directive and facilitate higher return and recycling rates for beverage packaging – in turn keeping litter out of the environment. A 60% return rate for PET containers was previously anticipated for the system's first twelve months in operation, with a 90% return rate anticipated to be reached by 2025.
The Central System Administrator for the country's DRS – founded in 2021 by the Association of Producers of Non-Alcoholic Beverages and Mineral Water, the Slovak Association of Producers of Beer and Malt, the Slovak Alliance of Modern Retail, and the Retail Association of the Slovak Republic – is responsible for operating the DRS with transparent flows of data and money, as well as raising public awareness of and engagement with the system amongst both stakeholders and consumers. It is reportedly funded by administration fees paid by beverage producers, revenue from the sale of collected material, and unredeemed deposits for containers.
With any retail stores over 300m2 required to take back empty containers and smaller shops able to opt into the DRS scheme, consumers can pay a deposit of €0.15 and return their beverage packaging to the appropriate locations. Although Slovakia's deposit law does not specify that reverse vending machines are the only way for consumers to return their containers, and they can theoretically be handed back to cashiers, the automatic method has apparently proven to be popular; there are currently around 2,000 collection points located throughout Slovakia, according to TOMRA.
Due to the ease and efficiency of automated return systems, the growth of reverse vending machines is expected to continue, with retailers said to be purchasing additional machines or new machines with a higher capacity. Furthermore, consumers are said to be engaging well with the system; a survey commissioned by TOMRA in March 2022 suggested that 99.2% of Slovakian consumers knew about the country's DRS. 77% were satisfied with its implementation and, within that figure, 55% were very satisfied.
"Slovaks have taken a very responsible approach to returning both plastic bottles and cans and are actively involved in it, which is why we managed to collect 70% of all deposit containers in the first 10 months," explained Lucia Morvai, director of External Affairs and Communications at the Deposit Return System Administrator. "By reaching that, we have so far exceeded the legislature goal by 10%.
"We owe the success of the Slovak deposit system to high-quality cooperation. This includes the cooperation with TOMRA Collection Slovakia during the implementation period of the deposit system in Slovakia. We are looking forward to other shared goals and tasks that the next year of the deposit system will bring us."
"The launch of the deposit system in Slovakia was very successful, thanks to the wide support of both retailers and consumers," added Roman Postl, managing director at TOMRA Collection Slovakia. "They understand the purpose of the deposit return system and therefore have the motivation to learn new things in adapting to the new system."
TOMRA's reverse vending machines and sorting equipment have been utilised for the Slovak DRS administrator's sorting facility. The machines are compatible with non-refillable PET bottles and metal cans between 0.1 and 3 litres in size, although this excludes containers for hard alcohol (i.e. over 15%), syrups, and milk or milk-based products.
"We installed RVMs [reverse vending machines] from TOMRA Collection Slovakia in all 34 FRESH Plus supermarkets in eastern Slovakia," continued Miroslav Labaš Jr., director of Advertising, Marketing, and PR at divisionLabaš s.r.o. "Thanks to their features, RVMs have become a helper in the fight against littered plastic bottles and cans.
"Thanks to the reliability of the machines, our customers quickly got used to the mandatory deposit system of beverage containers. In the case of system errors, which naturally occurred a few times, we appreciated the trouble-free communication with the technicians and their fast assistance in troubleshooting."
Ján Budaj, Slovakia's Minister for the Environment, concluded: "We are the first country in Central Europe to start a deposit system for PET bottles and cans. Every day, approximately 2.5 million PET beverage bottles and cans are collected in Slovakia, which would otherwise end up to a considerable extent in nature or in waterways."
TOMRA previously described Norway's DRS as the best in the world due to its transparency, efficiency, and responsiveness. It is said to have been founded voluntarily by Norwegian beverage and grocery retail industries, with a system for non-refillable containers implemented in 1999 – and to this day, it is apparently run and managed by regulation rather than legislation, allowing for quick and simple adjustment when necessary.
The company also launched its TOMRA M1 three-material reverse vending machine last year, designed to be a plug-and-play solution to allow smaller retailers to get involved in DRS schemes.
Meanwhile, Packaging Europe previously examined the implementation processes behind existing European DRS schemes in pursuit of the most effective start to such systems.