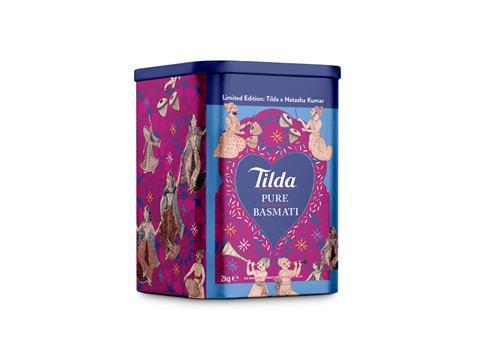 Tilda is launching a limited-edition, intricately designed tin in collaboration with British Indian artist, Natasha Kumar.
Known for dynamic screen-print art inspired by her heritage, Natasha's design for Tilda seeks to celebrate the food, culture, and colours of the sub-continent.
The pack is adorned with twirling dancers, drummers, and a fanfare of trumpeters against a background of deep pinks and blues, and elegant Mughal architecture (a type of Indo-Islamic architecture developed by the Mughals in the 16th, 17th, and 18th centuries). Tilda says that the drummers symbolise the pulsating heart of Tilda and the design resonates with the rhythm of every day.
Speaking of her design Natasha Kumar explains, "This collaboration with Tilda is one of taste, a blend of flavour and art, aimed at making every grain of rice part of a shared cultural experience.''
Natasha Kumar's own identity is a lineage of art and culture. She comes from a family of figurative painters on her English side and draws inspiration from the rich cultural heritage of her Indian side.
The Tilda limited-edition tin will be available from October in Waitrose and Ocado.
If you liked this article, you might also enjoy:
The L'Oréal approach to packaging sustainability
What steps is Apple taking to make its packaging more sustainable?
How did Brazil achieve its 100% aluminium can recycling rate – and can it be replicated in the EU?
Experts have their say on the EU's Packaging and Packaging Waste Directive revisions