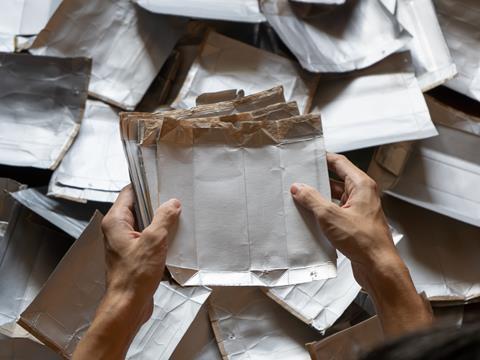 A new recycling line for post-consumer beverage cartons – stemming from a €29 million joint investment from Tetra Pak and Stora Enso – is commencing operations in Poland and hopes to triple the country's annual recycling capacity for beverage cartons.
The line, located in Ostrołęka, handles the separation of beverage carton materials, detaching fibres from polymers and aluminium to recycle them into cardboard materials. As such, it aims to close the loop on paper packaging materials and reduce the use of virgin fibres.
With an expected annual capacity of 50,000 tonnes, the line hopes to take Poland's annual beverage carton recycling capacity from 25,000 to 75,000 tonnes, as well as absorb additional beverage volumes sold in Czechia, Hungary, Slovakia, Latvia, Estonia, and Lithuania.
In turn, an increased beverage carton recycling rate throughout Central and Eastern Europe aims to support the circularity goals in the EU's Packaging and Packaging Waste Regulation – demonstrating the beverage carton industry's commitment to its targets. Approximately €200 million is already said to have been invested into European carton recycling processes, with a further €120 million in investments predicted by 2027.
 "For decades, we have been working to enhance beverage carton recycling capacity, co-investing with recyclers, technology providers and suppliers in new equipment and facilities," says Lars Holmquist, EVP Sustainability & Communications at Tetra Pak. "In 2022, Tetra Pak contributed nearly €30 million to collection and recycling projects worldwide, with plans to go further and invest up to €40 million annually over the next years.
"As part of the Alliance for Beverage Cartons and the Environment (ACE), we support the industry ambition to increase the collection for recycling rate of beverage cartons to 90% and the recycling rate to 70%, in the EU, by 2030. I am very pleased to see that our collaboration with Stora Enso translates into one of the largest recycling hubs for beverage cartons in Europe, contributing to this ambition.
"This is also an excellent example of how systemic and collective actions can help keep quality renewable materials in the loop - like paper fibres from recycled cartons."
 "We are very pleased to see the results of our close cooperation with Tetra Pak, who, like Stora Enso, has the development of sustainable solutions at their core," adds Hannu Kasurinen, EVP Packaging Materials at Stora Enso. "This new modern solution marks a significant addition to European recycling capacity and a concrete step forward in the circularity of consumer packaging.
"In addition to complementing the current scope of our production site in Poland, the recycling facility will significantly contribute towards the recycling and waste reduction goals of the EU's proposal for a Packaging and Packaging Waste Regulation."
At the same time, Tetra Pak and Plastigram Industries are working to complement the new plant by industrialising a solution for recycling polyAl – the layers of aluminium and polyolefins used to provide oxygen and humidity barriers in aseptic carton pouches – into new products.
Last year, Stora Enso and Tetra Pak carried out a study into a shared beverage recycling solution. This would involve one dedicated plant for producing recycled containerboard from recovered fibres, and a partner facility for recycling the polymer and aluminium barrier materials.
SIG has opened a new facility for the production of aseptic cartons in Queretaro, Mexico, and Elopak is building a plant in the United States after repackaging Paperdent mouthwash in its D-PAK paperboard carton.
If you liked this article, you might also enjoy:
McDonald's Director of Sustainability in Europe on the company's approach to packaging sustainability
McKinsey on whether or not on-pack sustainability claims affect consumer spending
Perspectives from industry-leading experts on the EU's Packaging and Packaging Waste Directive revisions
A deep dive into the most important packaging sustainability trends and solutions