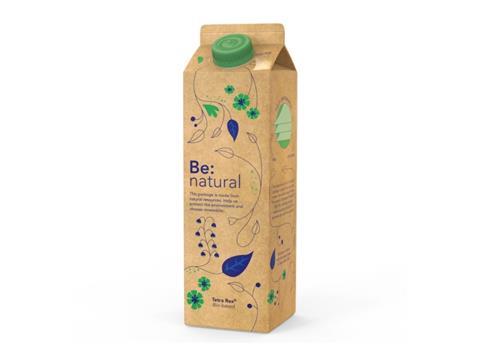 Stora Enso and Tetra Pak are jointly examining a shared beverage recycling solution that would involve a dedicated line in Langerbrugge for recovering fibres and producing recycled containerboard, while a partner would recycle the polymer and aluminium barrier materials.
According to the companies, 75,000 tonnes of beverage cartons are put on the Benelux market – referring to Belgium, the Netherlands, and Luxembourg – each year, but there is currently no existing beverage carton recycling infrastructure in the region. Stora Enso and Tetra Pak are considering a joint recycling solution that they say is aimed at meeting the growing demand for paper-based packaging solutions in the countries.
As part of the collaboration, Stora Enso says it would process collected beverage cartons and recover the fibres, which would serve as source material for producing recycled containerboard at its Langerbrugge site. Meanwhile, Tetra Pak would reportedly secure a recycling solution for the polymer and aluminium barrier materials to be processed by a dedicated partner.
The recycling project is linked to Stora Enso's feasibility study examining a potential conversion of one of the Langerbrugge site's paper lines into a high-volume recycled containerboard line, which is expected to conclude in the first half of 2023. If the company decides to invest, the recycling containerboard line is expected to enter production in 2025.
The joint study with Tetra Pak will apparently follow the same timeline. The companies claim that the proposed recycling line in Langerbrugge will initially process an estimated 50,000 tonnes of recycled cartons per year with the potential to increase.
Chakib Kara, managing director of France and Benelux at Tetra Pak, comments: "With this joint initiative, we underline our commitment to local recycling progress and improving infrastructure in Benelux, a region with high volumes of collected beverage cartons.
"Stora Enso is a trusted and important partner which has the know-how and experience we need in fibre recycling. Together with them, we have the potential to put in place a circular solution that helps us secure a world where a growing number of carton packages is collected, recycled and we can minimise litter."
Markku Luoto, VP LPB Aseptic and CUK at Stora Enso, adds: "At Stora Enso, we constantly pursue opportunities to deepen our commitment to a circular packaging future. Circularity advancement requires smart investments and collaboration with the right partners.
"By working jointly with Tetra Pak, we can simultaneously create value, enhance circularity, and grow our competitiveness."
Earlier this month, Tetra Pak announced plans to test a fibre-based barrier as a replacement for the aluminium layer in its food cartons.