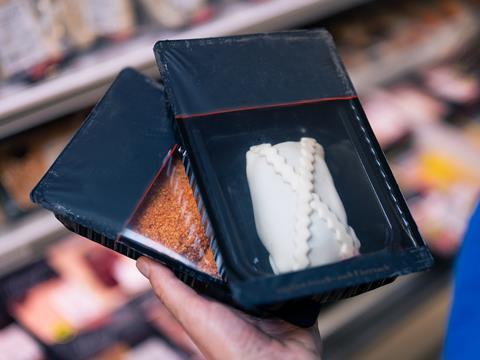 Sukano has partnered with natural-based chemicals manufacturer Emery Oleochemicals to develop a transparent PET antifogging compound for food contact PET packaging, aiming to combat the necessity of extra antifogging coatings.
Designed for rigid and oriented Coex films, the material contains Sukano's co-polyester compound in one cap-layer of a film extrusion line A/B structure and PET as a core layer.
Fogging occurs when small water droplets develop on the surface of films, often seen in packaging for fruit, vegetables, and meat. These can affect the visual appeal of a product, causing consumers to avoid products still within their shelf lives, and can sometimes damage sensitive packaging or the product itself.
Although antifogging agents currently exist, using a homogenous, transparent wet layer within the packaging to prevent the formation of droplets, the additives are applied to standard polyolefins or flexible vinyl meat wrap films and are incompatible with PET. Applying them adds another step to the production of films, and solution-based coatings can cease to be effective when the surface is washed. Sukano and Emery Oleochemicals' new compound is thought to negate the need for this extra coating.
Utilising PET is also said to improve the recyclability and gas barrier performance of the packaging. As a replacement material, it claims to maintain the transparency of other plastic packaging while providing durability, effectiveness in various ratios, and no requirement to invest in additional machinery for its manufacture.
The compound additive was reportedly tested in the form of PET lidding film applications, clam shells, and thermoformed lids and trays. These were then shredded, ground, washed, and submitted to additional heating conditions to emulate the journey of a PET tray through the recycling stream.
"At a very early stage, we understood that to be successful in producing effective antifogging agents for PET we must find a strong masterbatch specialist partner," says Dr. Christian Mueller, global technical market manager at Emery Oleochemicals´ Green Polymer Additives. "Antifogging for PET is a very challenging application in polymer additives, and Sukano is one of the most renowned companies when it comes to developing functional additive masterbatches and compounds. Sukano's significant experience creating state-of-the-art masterbatches and compounds for PET applications made them an ideal fit for this joint development project."
"Emery globally masters the development and production of LOXIOL antifogging agents," added Michael Kirch, global head of Research and Development at Sukano. "Our partnership combined a specialist in designing internal antifogging agents' molecules with Sukano´s expertise in masterbatches and compound applications and processing of polyesters to make it possible to incorporate such long desired functionality directly into the plastics material in the compounding step."
Cosmo Films released a similar product in 2020, designing a BOPP-based antifog film for large packs and pouches containing fresh food.
The following year, Sealed Air released a thermoforming packaging solution with an antifog top lid film thought to reduce the packaging weight by up to 50%. Camvac's ExtraPET mono-material barrier film, reportedly made from 60% post-consumer recycled PET, is also said to offer an anti-fog option.