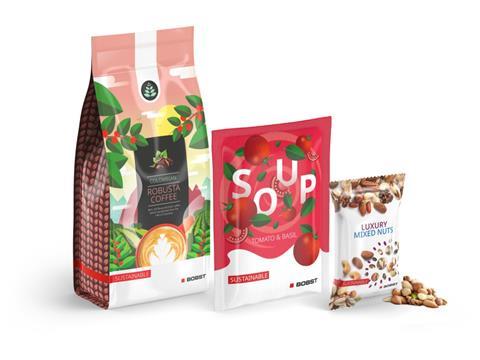 BOBST has unveiled OneBARRIER, a new collection of mono-material solutions hoping to provide improved barrier qualities and recyclability to film and paper packaging, respectively.
The OneBARRIER PrimeCycle solution is a polymer-based mono-material providing full PE barrier to replace metallised polyester films. Reportedly EVOH- and topcoat-free, it is said to maintain its barrier qualities while also being designed with recycling in mind.
Additionally, OneBARRIER FibreCycle is said to be another mono-material and recycle-ready solution, this one made of paper and created in collaboration with Michelman and UPM. BOBST claims to have designed FibreCycle in response to a growing demand for paper-based packaging within the industry.
The Generation 3.0 'hero samples' of the new OneBARRIER solutions are currently on display at K 2022 – alongside One, a new package of end-to-end solutions aiming to create a flexible packaging workflow for converters, and user-centric digital platform BOBST Connect, designed to facilitate a digital and automated connection across the value chain.
"The oneBARRIER solutions presented at K 2022 are the real deal – sustainable, recycle-ready packaging with excellent barrier properties," said Sara Alexander, marketing and communications manager, Flexible Packaging Industry, BOBST. "This success is a testament to the great collaboration between all our valued partners, and we are proud to have played an integral role.
"Sustainable packaging has represented one of the great challenges of the modern era, and one of the most necessary. Now at BOBST, together with our partners, we are ready."
Sukano's partnership with Emery Oleochemicals has resulted in a transparent PET antifogging compound for food packaging, which is expected to negate the need for antifogging coatings on polyolefin-based packaging.
Toppan's GL BARRIER range features a mono-material, reportedly recyclable PE barrier design set to package liquid products. The company's previous GL-X-P barrier solution was said to improve the barrier performance and flex resistance of paper-based packaging across various sectors.