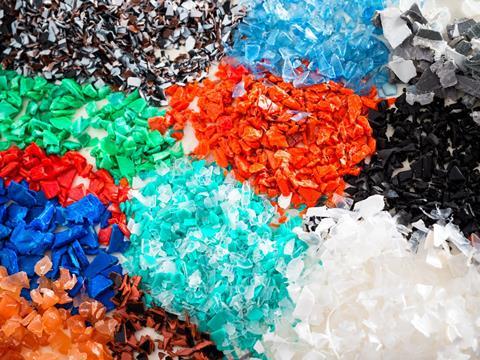 A new study has compared closed-loop recycling technologies for widely consumed polymers – concluding that mechanical recycling has the lowest impact on the environment, yet generates a lower quality recyclate than alternative solutions.
According to the study, over 400 million metric tons of plastic waste are generated across the world each year, an outcome that pollutes the environment and drains resources. As such, it compares the mechanical recycling and solvent-based dissolution of high- and low-density polyethylene, polypropylene, and PET, alongside glycolysis, vapour methanolysis, and enzymatic hydrolysis in relation to PET, based on their environmental performance.
This research is hoped to serve as a 'quantitative and transparent' data set of material quality, material retention, circularity, contamination tolerance, minimum selling price, greenhouse gas emissions, energy use, land use, toxicity, waste generation, and water use metrics for closed-loop polymer recycling technologies, which can them be used to compare emerging recycling solutions as they develop.
The results state that mechanical recycling and PET glycolysis result in the best economic and environmental performances, with respective decreases of 9%-73% and 7%-88% when compared to competing technologies. Meanwhile, the highest-quality recyclate materials are said to come from dissolution, enzymatic hydrolysis, and methanolysis, which are said to raise the quality of standard recyclates by 2%-27%.
Mechanical recycling is said to have outperformed the other technologies in terms of environmental metrics, yet its other technical metrics, including the quality of its resultant materials, were reportedly lower. Glycolysis emerged as the best chemical recycling method for PET.
Organic solvents, steam, and electricity are described as 'key drivers' of the technologies' MSP, energy use, greenhouse gas emissions, land use, toxicity, and water use. Areas of future improvement include process yields, consumable reduction or replacement, utility decarbonisation, and closed-loop recycling options for polyolefins, according to sensitivity analysis and MCDA. Such results are also anticipated to serve as a reference point for developing recycling technologies, as well as improving existing solutions and allowing reclaimers to identify the optimal end-of-life routes for given waste streams.
We recently spoke to Chemical Recycling Europe's new secretary general, John Sewell, about the challenges faced and criticisms levelled towards his industry. He discussed the industrial uptake in patent applications for chemical recycling, areas in which its methods have yet to develop, and more.
Meanwhile, while AMI previously claimed that mechanical recycling rates exceeded 8 million tonnes in Europe in 2021, Plastics Recyclers Europe reported last year that European plastic recyclers were seeing their procedures impacted by the low availability of sorted plastic waste, which could potentially serve as a roadblock in pursuit of the EU's sustainability targets.