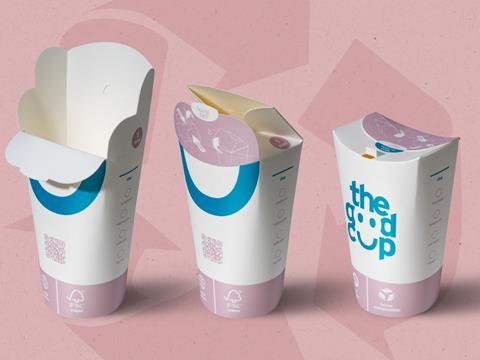 ChoosePlanetA has released a new cup claiming to be made entirely from home-compostable paper with an integrated top flap design – aiming to replace single-use cups and plastic lids.
As the top flap is built into the cup itself, folding and locking into place when closed, the design, marketed by the company as The Good Cup, intends to negate the need for producing non-recyclable plastic lids. Because of this, ChoosePlanetA asserts that storage space, transportation volume, and carbon footprint would see a 40% reduction if its design is successful.
The Good Cup is also said to lack a polyethylene (PE) coating and is supposedly compatible with existing machinery built to produce traditional paper cups. Its curved design was implemented with the intention to ensure that brand logos are always in the same position when a consumer holds or drinks from the cup.
"Most sustainable solutions and plastic alternative are in general two to three times more costly in the packaging industry," said Cyril Drouet, co-founder and managing director of ChoosePlanetA. "The Good Cup is not only highly sustainable, but it also offers cost savings.
"The impact of he Good Cup's use is far-reaching and varied; from creating significant savings at the point of production and increasing brand awareness to its most crucial and necessary impact– helping to alleviate the environmental crisis by removing plastic, one lid at a time.
"It is our mission to protect the planet by helping brand owners, manufacturers, and distributors in the food and beverage industry to meet their sustainability goals while elevating the consumer experience in order to increase brand loyalty and reduce cost."
ChoosePlanetA joins various other companies in a quest for sustainable drink containers. A composite material consisting of infrared-reflecting metallised polymer film and reconfigurable metal structures to regulate heat – inspired by the skin of a squid – was developed at the University of California, Irvine earlier this year; it is said that the copper can be removed with vinegar at end-of-life, with the remnants being recyclable through existing waste streams.
Around the same time, Burger King piloted reusable and returnable cups, alongside food packaging, for its customers, collaborating with Loop to carry out the trial. Starligner viscoctec's rPET100 sheet material, shortlisted under the 'Recycling' category at the Sustainability Awards 2022, was another 'environmentally sustainable' alternative for single-use coffee cups, able to withstand temperatures of 100 °C whilst claiming to be made of 100% recycled and recyclable materials.
Others opted to keep and improve the designs of drink lids. PulPac and HSMG collaborated on water and oil barriers intended to increase the recyclability of PulPac's Dry Molded Fiber technology; and Stora Enso's Cupforma Natura Aqua+ was said to contain renewable, sustainably sourced wood fibre.