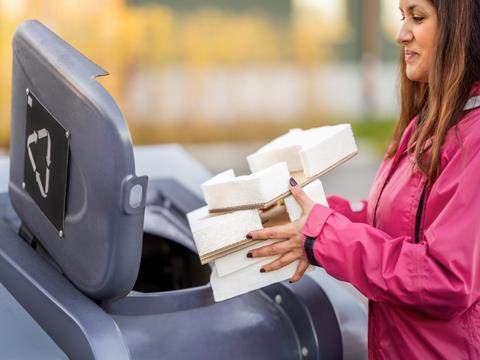 Sustainability Awards finalist Papira, a novel lightweight foam made from pulp fibres by Stora Enso, has been released as a 'recyclable' alternative to fossil-based foam materials in packaging.
The company claims that its new solution is both plastic-free and fully recyclable at kerbside and in paper waste streams. Its reported biodegradability suggests that, if it ends up in the environment, the material will not have a pollutive effect.
Its production is also said to be free of fossil fuels, blowing agents, solvents, and hazardous chemicals. The wood-based materials used in the pilot plant, which has been in operation at Stora Enso's Fors Mill for almost a year, are reportedly sourced from sustainably managed forests, and foamed in air and water.
According to Stora Enso, the foam can be individually optimised for the shape and size of the object it is set to cushion – thus ensuring that only the necessary amount of packaging is used.
Papira is expected to replace fossil-based, polymeric packaging foams such as polyethylene, polyurethane, and expanded polystyrene. However, it is still being assessed for recyclability and biodegradability certifications, and its carbon footprint is currently being measured to identify ways to improve its sustainability.
The company has been expanding its formed fibre production capacity this year. Sohrab Kazemahvazi, senior vice president for formed fibre at Stora Enso, has previously spoken to us about its collaboration with Pulpex in an attempt to industrialise the production of packaging from wood fibre pulp; he suggested that higher global rates of paper and cardboard recycling compared to plastic emphasises the environmental significance of this initiative.
Antalis Packaging has developed a new foam profile said to be made of 100% recycled and recyclable content. Tekni-Plex Consumer Products also introduced foam polypropylene trays to its product line back in January, the result supposedly being FDA-approved for food contact.
Winners of the Sustainability Awards' Pre-Commercialised awards, for which Papira has been nominated under the Renewables category, will be announced in Amsterdam on 14th November. In the meantime, Stora Enso and Rutgers Printing & Packaging Solutions have received the Carton of the Year award at the European Carton Excellence Awards 2022 for their re-closable cherry tomato box.