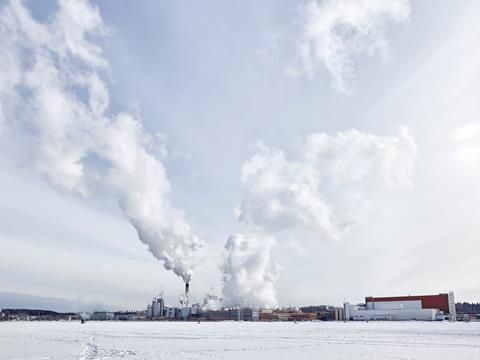 Stora Enso has completed a project to enhance production capabilities for premium packaging board at its Imatra Mills units by modernising the wood handling process – a move expected to reduce reliance on process water and mitigate environmental impacts.
Following an €80 million investment, the Kaukopää Mill unit now features a new, third debarking line, on which wood is expected to be debarked and handled centrally. Wood handling at the Tainionkoski Mill unit will be diverted to Kaukopää Mill.
It is hoped that the increased wood handling capacity will lead to a more stable and efficient process. Water usage is expected to decrease by 85%, or 500 million litres, in comparison to the old debarking line, and improvements have also been reported in the location's chip handling systems and the infrastructure of the existing wood yard.
Around 700,000 working hours are thought to have been dedicated to the project, with over 500 companies – nearly 40% of which are from South Karelia – involved in the project. 700 steel pipe piles and 100 boring piles totalling roughly 18 kilometres were installed into the ground, and two new silos were built for chip storage; the largest is 38 metres in diameter and 25 metres in height.
According to the company, the TR Audit was used in the construction process, ensuring that safety, worker behaviour, and the working environment were all prioritised in challenging winter conditions.
"Despite the challenges brought by the pandemic, construction progressed as usual, and the investment was completed on time and within budget," says mill director Mikko Nieminen. "Most importantly, the work was completed safely. Co-operation between the various players was very smooth. The investment will serve Imatra Mills for decades to come."
Aurelius Group recently acquired three self-powered graphic paper mills from Sappi Limited, and now intends to optimise their individual power plants and increase profits.
Smurfit Kappa has also implemented a new drying process at its Townsend Hook paper mill in hopes of reducing energy consumption and CO2 emissions.