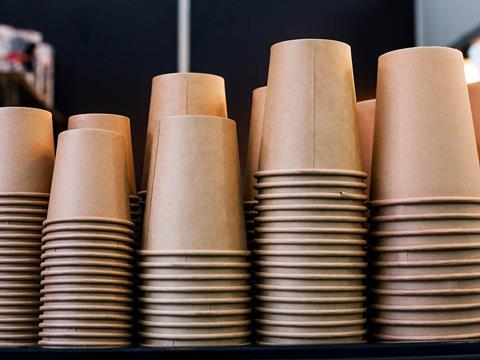 HSMG has combined its patented PROTĒAN CupKOTE coating with H.B. Fuller's Swifttak adhesives to create a reportedly recyclable and poly-free water, oil, and grease barrier solution for single-use paper beverage cups.
While standard PE coatings are said to self-heat seal while a cup forms, PROTĒAN CupKOTE secures cups on the sides and bottom using water-based, cold-seal Swifttak adhesive, which is applied during the printing process.
The solution comes after the initial launch of PROTĒAN CupKOTE in 2021, with the coating claimed to be a recyclable replacement for plastic solutions. HSMG cites a figure from Science Direct that raising the recycling rates of paper cups could reduce the impacts of carbon footprints by up to 40%.
"H.B. Fuller provides unmatched expertise and quality in their adhesive solutions," says Kris Burton, chief operating officer of HSMG. "We look forward to promoting PROTĒAN® CupKOTE™, together with H.B. Fuller adhesives, to allow our customers to transition to poly-free cups quickly and successfully. Together, we can provide cost-competitive cups that are easily recyclable both pre- and post-consumer."
Amber Fischer, H.B. Fuller's Global Packaging Makers business director, adds: "H.B. Fuller is committed to helping to enable circular packaging and is enthusiastic about the HSMG collaboration. It is an opportunity to enhance our offering and affirm our commitment to enabling recyclable foodservice packaging.
"Meeting the sustainability goals of our customers will require innovation beyond the ordinary, which we are accomplishing in this endeavor with HSMG."
Earlier this year, HSMG collaborated with PulPac to create oil and water barriers applied during the forming process of PulPac's Dry Molded Fiber technology, thought to ensure the recyclability of moulded fibre packaging such as coffee cups.
Meanwhile, Stora Enso and Tetra Pak worked together to examine a shared beverage recycling system in which one organisation would produce recycled containerboard from recovered fibres while another would recycle the polymer and aluminium barrier materials.