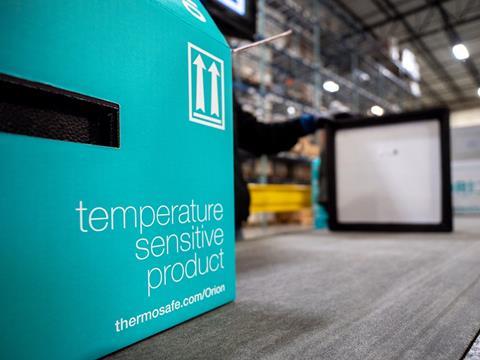 Sonoco ThermoSafe is expanding its Orion Rental packaging program – providing reusable parcel packaging for healthcare, pharmaceutical, and other temperature-sensitive applications – with an additional service station in Brussels.
It is said that the temperature assurance boxes are prepared in advance at an Orion Rental station, then delivered to the pharmaceutical company, where they are apparently shipped to clinical sites, healthcare or distribution facilities, and directly to patients. Customers can also utilise self-service to receive their deliveries, such as an online ordering portal with visibility from orders-to-reports.
Reportedly, Brussels was chosen for the new location due to its proximity to existing biopharma customers, prospects, and other western European countries. There is it partnering with CEVA Logistics to distribute the packaging.
"With additional rental stations in Brussels and London, the Orion Rental Program conveniently services UK, Benelux, and DACH regions which have a dense manufacturing and shipping and distribution presence," says Andrew Heholt, business development director and Orion product manager at Sonoco ThermoSafe. "Pharmaceutical companies in these regions can reliably ship their temperature sensitive products cost-effectively, reduce their operational burdens, while also working toward sustainability goals."
Bas van Breugal, head of Healthcare Business Development CL for EMEA at CEVA Logistics, adds: "Our healthcare logistics services are designed for better patient outcomes. By storing, refurbishing and pre-conditioning the Orion packaging at the CEVA premises, we provide pharmaceutical companies with the opportunity to save on warehouse space and operational tasks—without compromising the integrity of their shipments."
Peli BioThermal's Crēdo Go is a reusable, flexible, temperature-controlled shipping solution, announced in September as a means of helping pharmaceutical companies reduce cost, reach operational performance indicators, and achieve environmental, social, and governance goals.
In 2021, Softbox provided its own reusable, temperature-controlled parcel shipper for ultra-low temperature applications, used by Pfizer to distribute COVID-19 vaccines.