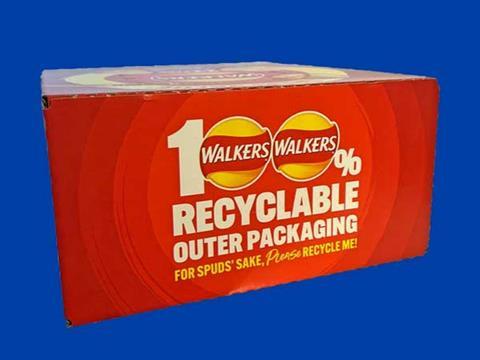 Smurfit Kappa has worked alongside PepsiCo to replace the plastic outer packaging of its Walkers crisps brand multi-packs with a cardboard alternative, aiming to eliminate 250 tonnes of plastic from its supply chain every year.
According to Smurfit Kappa's SupplySmart supply chain analysis service, the switch in packaging for the 22 and 24 multi-packs will increase pallet load and optimise supply chain efficiency, alongside its positive impact on the brand's use of plastic. It is also expected to contribute towards Walkers' overall aim to reduce its annual production of 660 million plastic bags.
Additionally, the cardboard alternative – reportedly 100% paper-based – is thought to have improved Walkers' brand appeal by meeting the demands of environmentally conscious consumers and resulting in a new, visually appealing pack.
The redesign comes after PepsiCo's announcement last January that its Walkers, Lay's, and Doritos brands would aim to utilise 100% recycled or renewable plastic in their crisp packets by 2030. Certain Walkers packs were anticipated to trial recycled content in the UK as part of a larger drive to eliminate virgin fossil-based plastics and reduce PepsiCo's greenhouse gas emissions by up to 40% per tonne of packaging material.
KP Snacks is also striving for a 25% reduction in flexible plastic for its Tyrrells crisps brand to save an annual 113 tonnes of plastic per year.
Other Smurfit Kappa redesigns include collaborating with Mindful Chef to produce recyclable corrugated cardboard insulation packs for its home-delivered recipe boxes and implementing its renewable, recyclable, and biodegradable TopClip solution to Royal Grolsch beer multi-packs to replace the previously utilised shrink wrap.