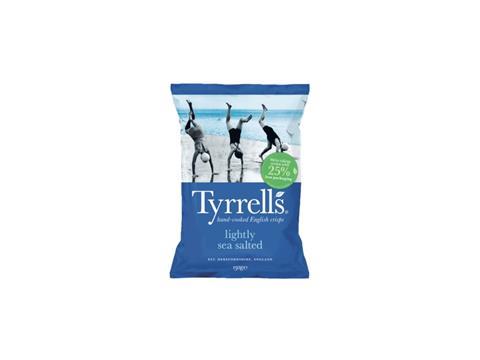 KP Snacks has announced a 25% reduction in flexible plastic packaging across its premium crisps brand Tyrrells, a move it claims will save 113 tonnes of plastic annually.
KP Snacks says that the packaging reduction rollout for the Tyrrells brand – which has a 13.5% share of the Premium Crisps and Snacks segment, according to Nielsen – reflects its broader commitment to sustainable packaging, outlined in its 'Taste for Good' responsible business plan. The company reportedly made a 410-tonne plastic packaging reduction across KP Snacks brands in 2021.
According to KP Snacks, the new Tyrrells packaging will allow for a 25% plastic reduction across the range with 113 tonnes of plastic saved per year. The new packaging will launch this month.
In addition, the new Tyrrells packs will feature a design flash on the pack that features the message, "We're taking action with 25% less packaging". Tyrrells consumers apparently identified plastic waste as their top environmental concern.
Dan Winslet, global Tyrrells marketing controller at KP Snacks, comments: "The new packaging reduction is key to the Tyrrells brand, and we are delighted to be championing not only great taste and quality but also sustainability.
"We know that protecting the environment is a top priority, motivating purchasing decisions and we're glad to be supporting both shoppers and our retail partners by slashing our plastic usage."
Nicola Robinson, head of sustainability at KP Snacks, adds: "As a category leader, KP Snacks is dedicated to continuing to reduce plastic packaging as much as possible across our portfolio, while also focusing on supporting the development of recycling infrastructure in the UK.
"Last year, we joined the Flexible Plastic Fund, a cross-industry collaboration working towards a long-term vision of a circular economy for flexible plastics. This is an important step towards closing the loop on packaging materials as we seek to protect and preserve our environment."
Launched in 2021, the Flexible Plastic Fund is supported by Mars UK, Mondelēz, Nestlé, PepsiCo and Unilever and aims to improve flexible plastic recycling and reduce plastic pollution by giving the material a stable value. Earlier this year, PepsiCo announced that it is aiming to use 100% recycled or renewable plastic in all of its crisps packets by 2030.