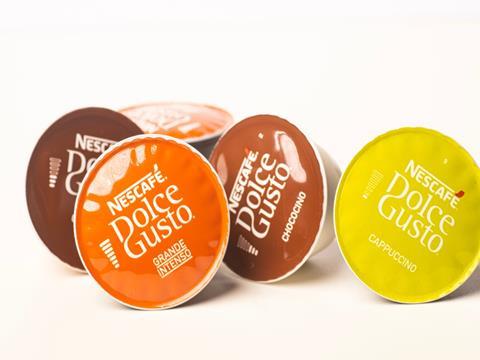 Nestlé has partnered with Nozama to implement a tracking solution for Dolce Gusto coffee capsules to enhance the traceability of returns to recycling points by consumers, who can use an app to monitor deposits and collect credits that can be exchanged for prizes and discounts.
The solution will initially be implemented at the Nestlé Market located in Esplugues de Llobregat, Barcelona. This will be the first store to offer Nozama's tracker for Nestlé's Dolce Gusto coffee capsule brand.
According to the companies, consumers can download the NDG Recycling app from either the Apple Store or Google Play. At the participating Esplugues de Llobregat store, consumers can weigh the capsules they are going to recycle on a smart scale, which will apparently show a QR code that is scannable through the NDG Recycling app to transfer the data.
The companies say that the app allows consumers to keep a personalized track of the number of capsules they deposit, and to accumulate credits that can be exchanged for prizes or discounts at the Esplugues de Llobregat Nestlé Market.
Nestlé and Nozama claim that the tracking solution connects and involves consumers with the waste management process while giving a second life to the coffee capsules. In addition, the tracker reportedly adds transparency to the process of recovering and recycling coffee capsules by allowing their traceability.
Daniel Garcia, co-founder and CTO of Nozama, comments: "We are proud that Nozama Technology is enabling Nescafé Dolce Gusto to break new ground and give consumers the chance to learn how the entire supply chain is committed to minimising waste."
Berta Cruz, head of business at NESCAFE Dolce Gusto, adds: "Thanks to this technological collaboration, our consumers will see the quantified impact of taking their used capsules to a collection point, thus collaborating in the reduction of waste and promoting the circular economy."
The collaboration is also aimed at encouraging consumers of Nescafé Dolce Gusto to move their capsules to a collection point through the Plastiks Marketplace. Launched earlier this year, Plastiks connects consumers and producers with recyclers through Non-fungible Tokens (NFTs) that can be used as a marketing tool or loyalty programme to incentivise collection and recycling. Nozama recently announced that the Plastiks platform will certify the plastic that Gravity Wave recovers from the Mediterranean Sea and uses in its products.