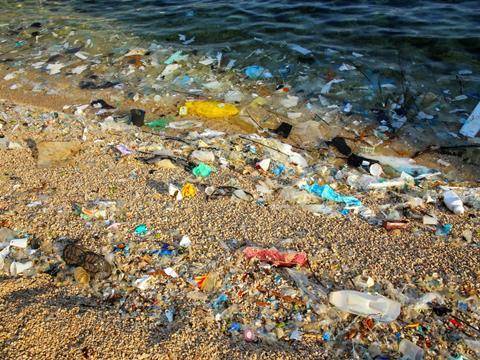 Plastiks, Nozama's platform that compensates the recovery of packaging and plastic waste with Non-fungible Token (NFT) certificates, has partnered with Gravity Wave to certify the plastic it recovers from the Mediterranean Sea and uses in its products.
Plastiks was launched in early 2022 by the London-based sustainability technology company, Nozama, with the intention of facilitating a marketplace where global recyclers can turn invoice data into NFTs. Each NFT created apparently uses data recorded on the blockchain to certify that a corresponding amount of plastic has been recovered.
Nozama says that plastic producers, users, and recyclers, as well as NFT collectors, can then buy and sell these NFTs. This reportedly creates an additional revenue stream for recyclers from plastic that has already been recovered, encouraging producers and users to invest in the recovery of single-use plastics (SUPs).
Gravity Wave, a company that makes products from plastic recovered from the Mediterranean Sea, will use Plastiks NFTs to certify the plastic it recovers as part of its clean-up campaigns. These NFTs will be listed alongside other guarantees on the Plastiks marketplace.
According to Gravity Wave, it will allocate the funds generated through NFT sales to continue the recovery of plastic from the sea by expanding the network of plastic fishers throughout the Mediterranean. Gravity Wave adds that it considers NFTs as a means to engage with and motivate public trust in the recycling process.
In addition, Plastiks is set to join Gravity Wave's "Plastic Free Oceans" commitment alongside more than 50 other companies, including Flying Tiger, Iberdrola, Kantar, and insurer QBE.
Álvaro García, head of alliances and business development at Gravity Wave, comments: Without a doubt, we believe in the effectiveness of the use of NFTs, backed in turn by Blockchain technology and smart contracts, is a fantastic and innovative way to certify plastic recovery.
"Plastiks NFTs are a fantastic way to allow more people and organizations to contribute to the protection of the environment, in this case the seas and oceans, through a combination of technology, art and social impact.
"We are convinced that our integration with Plastiks and the interesting value proposition of its marketplace can be a new and important channel that allows us to generate an even greater impact and clean and recycle more plastic from the sea."
Fernanda Accorsi, marketing director at Nozama-Plastiks, adds: "Plastiks exists to give visibility to all the actors involved in the waste management value chain, and at the same time, encourage and compensate them for their important work at each stage.
"We are happy to be the platform that certifies Gravity Wave's impact with NFTs, providing transparency and helping it to disseminate its work and use art to connect with citizens in an emotional way."