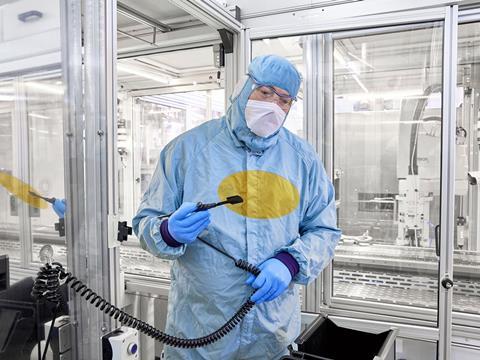 Andrew Manly, communications director at AIPIA, casts his eye over a number of interesting and innovative smart packaging developments that have been revealed over the past few weeks.
A new whitepaper from AIPIA member Pragmatic looks at the emissions profile of semiconductor manufacturing, and its impact on the carbon footprint of smart products. The paper finds that substituting silicon chips for fit-for-purpose flexible integrated circuits (FlexICs) can reduce energy and resource consumption, both during fabrication and in deployment, reducing the carbon footprint.
Silicon-based semiconductor production has historically had a poor environmental record, relying on vast amounts of water and energy. But Pragmatic's FlexIC production process removes resource- and energy-intensive steps, resulting in the use of fewer and safer chemicals and gases, and the consumption of substantially less water, it explains.
"A flexible chip on a bottle of fizzy drink will contribute only 0.4 percent to its carbon footprint," says Joshua Young, director, market development, "but the added intelligence can help keep valuable resources in circulation for longer, leading to a significant reduction of overall carbon footprint across product lifecycles."
Identiv, an AIPIA member specializing in digital security and identification in the Internet of Things (IoT), has signed an exclusive strategic agreement with Trace-ID, a Spain-based provider of UHF RFID technology and solutions, to become the exclusive provider for Trace-ID's complete line of specialty and industrial UHF RFID across North America.
The partnership expands Identiv's manufacturing footprint, enabling the company to add to its product portfolio, further strengthening its position as a global supplier of specialty RFID technology. This partnership will enable it to provide industrial UHF RFID solutions for hundreds of use cases across a variety of industry sectors, it says.
Sotol is a Mexican distilled spirit by Sta. Maria made from the Dasylirion Wheeleri shrub, more commonly called desert spoon. Created by design studio Human, the spirit's glow-in-the-dark packaging system not only honors the spirit itself, but also different kinds of spirits—loved ones who have passed away.
Design elements on the bottle label include white silhouette illustrations of two human figures, a striking shade of yellow and an eye-catching typographic hierarchy. Once the lights go down, a UV varnish brings the packaging to life. The label's white silhouettes are transformed into purple ones, and skeleton figures are revealed.
From March, any business selling food and drink to French supermarkets must add a new recycling logo to labels, as well as a QR code that gives shoppers detailed packaging and recycling information. or face fines of up to €15,000 per product line.
The law officially started in September. However, a grace period is in effect until March. Stock that is non-compliant during the grace period can still be sold now, but will be removed from shelves in March. Many countries are scrambling to meet the deadline for these new rules.
DoseID has rebranded as UnitVisID Alliance. The name change took effect late last year as the group expands its membership, notably in the healthcare provider sector, and hopes to reflect a larger ecosystem of pharmaceutical management with RFID, it says.
Members of the Alliance work together to create universal specifications for RFID tag usage in the medication tracking space to unify the healthcare industry around uniquely serialized, RFID-tagged pharmaceutical products. It believes the name change reflects the full user case for RFID management of pharmaceuticals across the supply chain, from manufacturing to patient compliance.
Commercial holograms will maintain robust growth in 2023 despite the global challenges, believes Dr Paul Dunn, chair of the International Hologram Manufacturers Association (IHMA). Authentication and track and trace systems which feature holograms will continue to help to underpin international efforts by government and law enforcement agencies to bolster overt and covert protection strategies in the next 12 months, he said.
Dr. Dunn sees a number of COVID-related security threats continuing in the months ahead, so government, law enforcement authorities and global supply chains must consistently review their anti-counterfeiting plans and investment in security resources. He also sees holograms on labelling continuing to be part of a wider function to track a product throughout its life, and post-life, cycle. This combination of authentication and tracking will give brand owners complete visibility and control from sourcing raw materials through to recycling, he added.
This article was created in collaboration with AIPIA (the Active and Intelligent Packaging Industry Association). Packaging Europe and AIPIA are joining forces to bring news and commentary about the active and intelligent packaging landscape to a larger audience. To learn more about this partnership, click here.