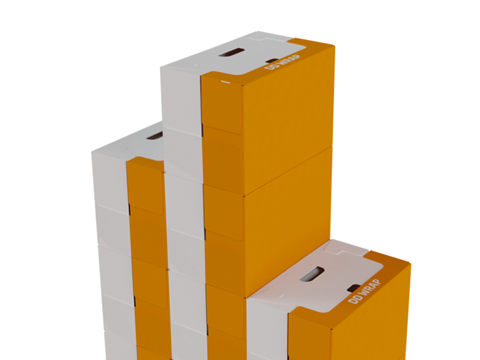 DS Smith has unveiled DD Wrap, a multi-category Shelf Ready Packaging (SRP) solution designed to conserve resources, reduce waste, and facilitate a positive unboxing experience for consumers.
DD Wrap is made from a piece of mono-cardboard without perforation on its front side – a choice made to optimise the visibility of a product on a shelf. Initially designed to contain biscuits, the pack can apparently be tailored to fit a range of products while also meeting circular economy requirements and increasing supply chain efficiency.
As it consists of only one piece, the packaging is reportedly easy to open without requiring scissors or a sharp tool. It was developed by DS Smith's design team in accordance with the company's Circular Design Principles and approach, which assesses packaging designs through eight different indicators. From here, designers can gauge whether a packaging product meets sustainability targets and consider potential improvements.
The model aims to utilise a minimum number of resources and rightsize boxes to remove unnecessary empty space and air. In turn, this hopes to reduce the number of vehicles needed to transport stock and decrease CO2 emissions.
"As leaders in the packaging industry, at DS Smith, we know that innovation and design are essential to creating sustainable and efficient solutions that meet the needs of our customers and society, and in line with our purpose of Redefining Packaging for a Changing World," says Francesco Barsanti, Marketing & Innovation director at DS Smith, Italy. "Our company is committed to combine market insight with innovative design and to creating high-impact shelf-ready packaging. DD Wrap perfectly positions the product of our customers and gains maximum attention.
"Designed correctly, shelf ready packaging has a vital part to play in the promotional mix, generating sales in-store at the crucial point of purchase. DS Smith works with marketing teams to ensure that the packaging reflects the brand positioning, achieves visual disruption in the category and helps promotions succeed. So, from design to production and supply, to recycling, we offer our customers a joined-up solution that is sustainable for all."
DS Smith also cites research from The Institute of Grocery Distribution (IGD), in which 53% of consumers believed that brand communication is improved by well-designed, shelf-ready packaging. 85% reported that in-store marketing is more likely to improve their spending habits, while 42% thought that shelf-ready packaging with clear presentation makes shopping easier.
Another wraparound box solution from DS Smith, Light Wrap, has claimed to utilise 19% less fibre than conventional alternatives. It is also thought to have reduced CO2 emissions equivalent to 1,831 flights between Madrid and Lisbon since its creation.
Paper air cushions created by Flöter Verpackungs-Service GmbH recently received the WorldStar Packaging Award under the e-commerce category. According to the company, they are FSC-certified biodegradable and made of 100% recycled paper.
Billerud has also wrapped toilet and kitchen paper rolls in its machine-glazed kraft paper, which claims to reduce carbon emissions and offer the same strength as polyethylene alternatives.
If you liked this article, you might also enjoy:
McDonald's Director of Sustainability in Europe on the company's approach to packaging sustainability
McKinsey on whether or not on-pack sustainability claims affect consumer spending
Perspectives from industry-leading experts on the EU's Packaging and Packaging Waste Directive revisions
A deep dive into the most important packaging sustainability trends and solutions