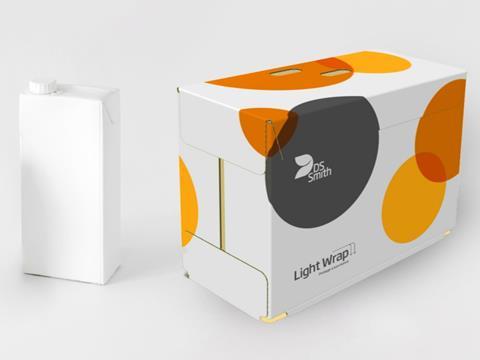 DS Smith claims that its new Light Wrap wraparound box solution for bricks uses 19% less fibre than its traditional alternatives and has reduced CO2 emissions equivalent to 1,831 flights between Madrid and Lisbon since its creation.
The pack features a double crease at the base – the first functioning when the box is formed in customers' forming machine, with a second crease added for its compression and stacking on a pallet. Its patent stems from a €116 million investment into R&D and innovation announced by DS Smith in mid-2021.
Light Wrap has been designed to improve standard wraparound packaging whilst utilising 19% less fibre, through which it hopes to lessen costs and CO2 emissions without compromising product protection. It also seeks to support the weight of stacked bricks during transportation and at point of sale without deforming or damaging the packaging, inspired by the compression and fastening features used to protect the components and occupants of a car.
Luis Serrano, director of Sales, Marketing & Innovation at DS Smith, Iberia, states: "Brands are adapting their carton caps, as according to the EU's Waste and Contaminated Land Act – as of July 2024 – they will no longer be able to incorporate a separate cap. This is the best time for companies to redefine the packaging of their cartons and start using Light Wrap, benefiting from all its advantages.
"As leaders in the packaging industry, at DS Smith, we know that innovation and design are essential to creating sustainable and efficient solutions that meet the needs of our customers and society, in line with our purpose of Redefining Packaging for a Changing World.
"Additionally, our company is committed to collaborative design and working hand in hand with our customers to develop packaging ideas that help them achieve their objectives through a range of innovative tools and facilities, including our Innovation Hubs and PackRight Centers, where we hold collaborative and interactive sessions to design and develop packaging solutions together."
As part of its sustainability strategy, DS Smith aspires to provide 100% recyclable or reusable packaging solutions by 2023 and replace one billion plastic items in supermarkets and e-commerce channels by 2025.
In other news, Silbo is replacing its plastic stretch film pallet wrapping with Mondi's Advantage StretchWrap kraft paper, having recently installed EW Technology's PaperWrap machine at its Polish plant.
Billerud has also made the decision to wrap its kitchen and toilet paper rolls in machine-glazed kraft paper in the hopes of cutting carbon emissions without compromising the effectiveness of polyethylene solutions.
Additionally, Sustainability Awards 2023 finalist Flöter Verpackungs-Service GmbH has unveiled its FSC-certified biodegradable PaperWave Bio air cushions, which are apparently inflated at the company's own packaging stations in the hopes of saving CO2 emissions and energy.
If you liked this article, you might also enjoy:
McDonald's Director of Sustainability in Europe on the company's approach to packaging sustainability
McKinsey on whether or not on-pack sustainability claims affect consumer spending
Perspectives from industry-leading experts on the EU's Packaging and Packaging Waste Directive revisions
A deep dive into the most important packaging sustainability trends and solutions