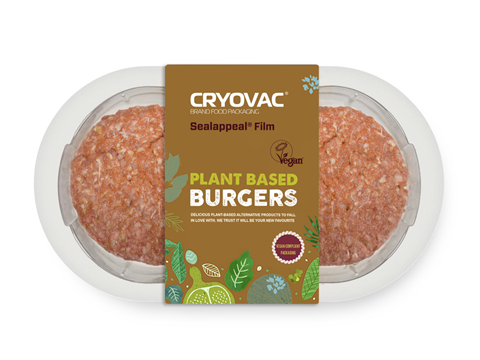 Sealed Air has received The Vegan Society's Vegan Trademark for its CRYOVAC Sealappeal flexible packaging range – an achievement that, according to the company, makes it the first producer of vegan-compliant flexible packaging.
In order to achieve the trademark, the product in question must not involve the use of any animal product, by-product, or derivative – 'animal', in this case, meaning any vertebrate or multicellular invertebrate – at any point during its production; nor can any aspect of the product have been tested on animals, whether by the company itself or any third parties under the company's control, or involve GMOs of animal origin.
The CRYOVAC brand is already said to have received the Vegan Quality certification by replacing the animal derivatives in the packaging with non-animal fats and hydrocarbon waxes, and it achieved the full Vegan Trademark in September.
"Achieving the Vegan Trademark is a huge step forward for Sealed Air, grocery retailers and food manufacturers," said Matt Baldock, Business Development, Retail and Sustainability Leader for North-West Europe, Benelux and South Africa at Sealed Air. "It's a trademark that is instantly recognisable for consumers and its award will help to engage shoppers in the fast-growing vegan market.
"Europe is a key player in the global meat alternatives market, which was valued at $1,718.6 million in 2019 and is projected to expand at an estimated CAGR of 7.3% between 2020-2025. This is a huge area of growth potential for food businesses looking to bring meat alternatives to market.
"Sealed Air aims to be one of the leading producers of vegan-compliant packaging solutions and our Sealappeal products are just the start of this exciting journey."
Going forward, Sealed Air aims to achieve the Vegan Trademark for its CRYOVAC Darfresh vacuum skin packaging range.
"As a business we are always looking at areas of innovation that will deliver a positive contribution to global environmental goals," added Aldo Galbusera, EMEA marketing manager for Sealed Air. "Producing packaging solutions that make it more accessible for food manufacturers and retailers to utilise vegan compliant packaging for their meat alternatives, without compromise, is a positive step forward and we are looking forward to working with The Vegan Society to add the respected Trademark to more CRYOVAC brand products soon.
Smurfit Kappa became the first packaging company to receive the Vegan Trademark this year thanks to its corrugated packaging. It has formed a partnership with the Vegan Society to supply vegan packaging for the products of other Vegan Trademark holders.
Avery Dennison also launched a portfolio of vegan labels in February; it is said to be completely free of animal-derived components, animal testing, and GMOs.