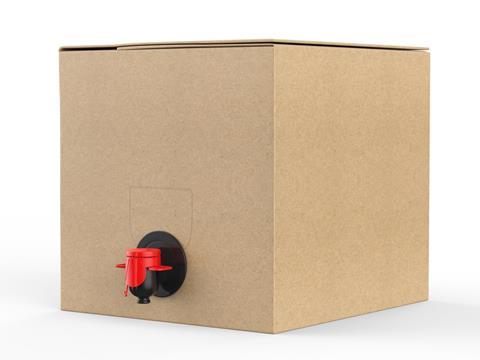 Sealed Air Corporation (SEE) has signed a definitive agreement to acquire Liquibox and utilise its packaging solutions, such as bag-in-box, to expand into new industrial sectors.
Liquibox's full-year revenue for 2022 is estimated at $362 million, with its bag-in-box business currently applied to dairy, coffee, water, wine, fountain beverage syrup, milkshake mix, and liquid foods products, as well as other industrial applications. The recently launched Bag-in-Box Liquipure claims to be a recycle-ready replacement for metallic laminated bags, and the Liquibox Orbiter is a supposedly automatic six-head rotary filler that hopes to increase productivity in high-volume operations.
With flexible packaging solutions for fluids and liquids thought to be a $7 billion addressable potential revenue opportunity with a projected annual growth rate of around 6%, the acquisition is expected to contribute to the reported acceleration of SEE's Cryovac Fluids and Liquids business, said to be its fastest growing sector.
SEE plans to take on Liquibox's established presence in various beverage sectors and expand its 'core competencies' in barrier bag manufacturing, film extrusion, automation, and digital technology, alongside fitments to drive accelerated combined growth. In terms of expansion, the Bag-in-Box, as well as the Cryovac Autopouch vertical form fill seal and the FlexPrep automation solutions for back-of-house productivity on condiments and sauces, is hoped to provide SEE with an opportunity to tackle food service and quick service restaurants.
Liquibox's filler equipment and technology are also expected to bring growth for SEE Automation, and its integrated approach to digital solutions is planned to benefit e-commerce-ready solutions for fluids and liquids alongside Sealed Air's prismiq digital packaging and printing solutions.
"This is an exciting day for SEE," said Ted Doheny, president and CEO of SEE. "Liquibox is a highly strategic acquisition to fuel growth and earnings power in our SEE Operating Engine. We look forward to welcoming Liquibox's talented team. Both of our cultures strive for world-class performance and place strong emphasis on talent, sustainability, innovation and operational excellence.
"This move broadens the breadth of Cryovac solutions, making our portfolio stronger and more resilient as SEE navigates recessionary environments. We will generate strong synergies and accelerate innovation by combining Cryovac's barrier bags and films and technology for fresh foods with Liquibox Bag-in-Box dispensing capabilities, unleashing significant value creation to our customers and shareholders."
"We look forward to partnering closely with the team at SEE," said Ken Swanson, Liquibox's president and chief executive officer. "This will be a new chapter for Liquibox – a chance to accelerate innovation and bring sustainable packaging solutions to more customers and geographies."
The news comes after Liquibox's Liquipure ultra-flexible packaging with mono-material VINIflow dispensing tap made it to the finals of the 2022 Sustainability Awards. The company's new automatic and semi-automatic bag-in-box filling equipment for liquid foods, beverages, and non-edible products was recently unveiled.
Sealed Air recently debuted its first ready-to-roll paper wrapping systems designed for low- and medium-volume e-commerce applications.
In September, De Jong Packaging Group was acquired by Stora Enso with the aim of strengthening its European market presence in corrugated packaging.