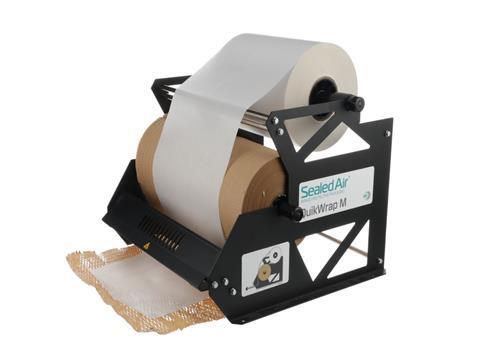 Sealed Air has launched its first ready-to-roll paper wrapping systems, aimed at streamlining packaging supply for low- and medium-volume e-commerce retailers and fulfilment companies.
According to Sealed Air, the QuikWrap Nano and QuikWrap M systems require very little, if any assembly, and do not need electricity or excessive maintenance to operate. Each can produce double layers of FSC-certified honeycomb paper and interleaf tissue paper, which are claimed to be 100% kerbside recyclable and are expected to provide enhanced protection for the products they package.
QuikWrap Nano is being marketed as the smallest dual paper wrapping system currently commercially available and is designed for low-volume operations. It comes with a corrugated board dispensing box containing 61 metres of both honeycomb and tissue paper, which can apparently be custom printed to allow for company branding. The dispenser itself is also claimed to be kerbside recyclable.
On the other hand, QuikWrap M is intended as an easily refillable system for medium-volume operations. With a frame made from 'lightweight, robust metal', it can hold 1700-metre rolls of paper.
Their reported 'tear and hold' design is also thought to facilitate customers' safety by removing the necessity of cutting the paper with scissors, as well as speeding up the wrapping process.
"Both systems quickly produce two layers of protective packaging," says Andrea Questa, EMEA Fulfilment paper solution manager at Sealed Air. "The expanding honeycomb paper provides cushioning, with the interleaf tissue protecting against surface abrasions. Together, this helps to improve the overall customer experience during unboxing, as products are better protected."
She continues, "The SEALED AIR brand QuikWrap Nano and SEALED AIR brand QuikWrap M are ideal for small and medium-sized businesses that want an easy-to-use, space-saving and efficient paper wrapping solution. The two new systems have a compact footprint, making them ideal for smaller operating spaces. These ready-to-roll dispensers enable packaging operations to be up and running in no time.
Another Sealed Air release comes in the form of the Modular Pack Station, thought to save space and appropriately organise equipment for both paper and inflatable packaging. This involves a range of table, shelving, and attachment options expected to increase efficiency by reducing touchpoints.
Customers can purchase the Modular Pack Station in single, double, or bespoke configurations, and are compatible with various Sealed Air brand packaging systems, including FasFil paper and BUBBLEWRAP brand systems.
Questa concludes: "Fast-growing e-commerce retailers can often find rapidly rising sales outpace their packaging functions, meaning the packing area quickly becomes inefficient and spills into other work spaces. The new Modular Pack Station provides a solution to this and one that can easily evolve as sales and volumes increase."
A previous collaboration between Mondi and EW Technology saw the creation of a machine for both automatic and semi-automatic paper pallet wrapping on small-to-medium production lines. Mondi also partnered with ACMI in 2021, unveiling a wrapping system for pallets said to utilise paper rather than plastic.
Similarly, Sitma Machinery's E-Wrap paper wrapping machine is thought to use heat-sealable paper and scan 3D objects to create custom packaging for e-commerce applications.