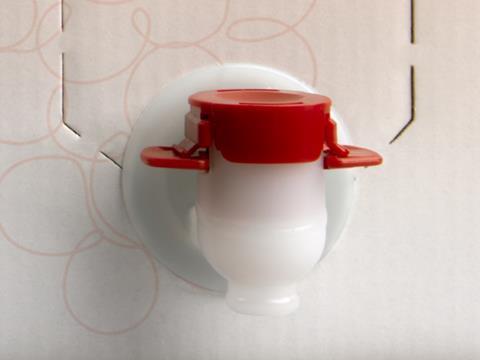 Smurfit Kappa has revealed its patented Vitop Uno tap for bag-in-box applications, reported to be the first on the market with attached tamper protection.
Rather than requiring consumers to remove the tamper protection upon its disposal, the new tap design deactivates the protection upon its first use and remains part of the packaging. As such, it apparently falls in line with the EU's upcoming Single Use Plastics Directive, which will mandate that single-use plastic beverage containers of up to 3 litres can only be sold on the EU market if their caps and lids remain attached.
Furthermore, the solution is expected to prevent tamper protection plastic from ending up in the environment. At end of life, consumers are expected to separate the box from the bag with the tap and send them for recycling as appropriate in their region.
Tests conducted in France, Spain, and Sweden over the past year have apparently resulted in a process that maintains the convenience of detachable tamper protection solutions while also encouraging consumers to buy the products due to the sustainability claims of the packaging.
"We built this tap, with the prospective option of a full transition to mono-material, to be suitable for recycling into the existing flexible polyethylene stream," said Didier Pontcharraud, CEO of Vitop.
"Bag-in-Box recyclability is one of the most frequent requests from our customers nowadays," added Thierry Minaud, CEO of Smurfit Kappa Bag-in-Box. "Our target is to offer the most sustainable solutions that can be recycled on a large scale across different countries in the near future."
Smurfit Kappa plans to produce the Vitop Uno on an industrial scale in the second half of 2023.
The news comes after Smurfit Kappa released the QuickConnect Vitop tap for soft drinks applications back in 2020. The company also acquired bag-in-box packaging plant Pusa Pack late last year with the aim of expanding its own manufacture of bag-in-box products.
Liquibox also became a finalist in the 2022 Sustainability Awards for its recycle-ready bag-in-box solution, consisting of Liquipure ultra-flexible packaging with the mono-material VINIflow dispensing tap. Liquibox was later acquired by Sealed Air in another expansion effort.