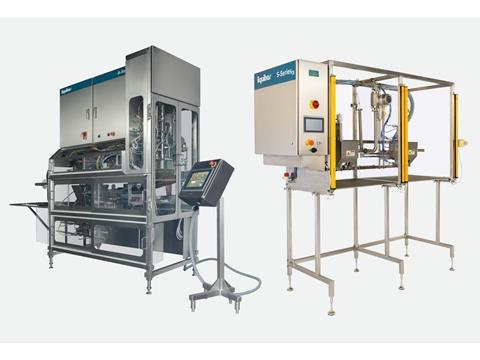 Liquibox has announced its new automatic and semi-automatic bag-in-box filling equipment, with the new designs capable of filling liquid food, beverages, and non-food products such as cleaning fluids.
The launch presents the automatic A-Series and semi-automatic S-Series fillers, with both machines reportedly being adjustable to accommodate various fitments, taps, and bag sizes.
The A-Series is thought to be particularly compatible with high-speed filling. Designed for simple operation, adjustable bag loading, and efficient changeover between bag sizes, this machine supposedly offers customers a compact footprint and allows for more bags to be filled per square inch of the production floor than the current industrial standard for filling machinery.
This design features a new kettle and chamber design, which supposedly enables it to fill extended shelf-life products. Liquibox also claims it to be ESL capable.
Meanwhile, the S-Series, while also user-friendly, is designed for efficiency. Customers can choose between single-head and dual-head configurations, with the latter expected to double the output when necessary. The company also points to its fully guarded design, which is said to meet international safety standards.
"Liquibox A-Series and S-Series bag-in-box fillers offer brands a way to keep up with ever-changing industry needs," said Andrew Ernest, global director of Equipment, Parts and Service at Liquibox. "These revolutionary machines are part of Liquibox's commitment to delivering highquality, innovative solutions to our customers."
Both modular design platforms are now commercially available.
IWK Packaging Systems, Inc.'s touchscreen-operated VI 5 and VC 5 Vertical Cartoners offer carton and tube filling for the health and beauty and pharmaceutical sectors. They are similar to Liquibox's new designs in their intent to optimise floor space and provide easy use to customers.
SIG also unveiled SIG NEO towards the end of 2021, which claimed to be the fastest filling machine for family-size carton packs with a reported output of 18,000 per hour.