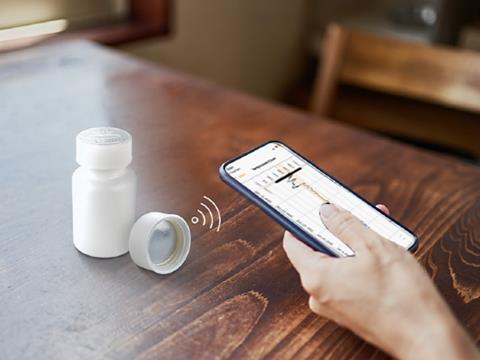 Berry Global, an AIPIA member providing packaging and engineered products, has launched an innovative child-resistant closure that integrates innovative digital technology to improve medication adherence. The new Berry Digi-Cap digital closure is ideal for clinical trials, drug development, research and academic studies, it says. Patient behaviour data is analysed to enhance medicine adherence and gain insights into its effectiveness relative to the prescribed regime.
A microprocessor incorporated into the closure records patient openings and stores usage history in its memory. In addition, the closure continuously monitors and logs temperature storage levels, which can provide valuable data for research and development.
The microprocessor is activated once the patient pushes down to open the closure. It records and stores various parameters, and the recorded information can then be easily transferred via NFC to external devices such as smartphones and PCs for further viewing and analysis. The data can be uploaded to a patient-facing mobile app, compatible with both Android and iOS platforms, and to web portals for healthcare professionals to review and utilise for optimizing treatment plans.
As well as promoting enhanced patient adherence, the vast amount of data collected by the closure can assist pharmaceutical manufacturers and healthcare providers in optimising trial efficiency and increasing the effectiveness of medications, according to the company. The app can also remind patients when to take their medication and how to store it properly.
Drug companies can add extra features such as LED lights on the closure to show when the medication should be taken, for example by flashing green at the appropriate time. This can help patients stay on schedule with their treatment. In addition, healthcare professionals can analyse the behavioural data to identify compliance or non-compliance, support test results and conclusions, and to fine-tune timings for taking the medication to maximise its effectiveness.
The patent-pending 38mm child-resistant closure features a fine-ribbed sidewall for enhanced grip, providing ease of use for patients. The push-down and turn child-resistant mechanism ensures product security, and clear pictorial opening instructions further simplify the patient experience, it claims. An audible click feature gives a sound indication of opening for added reassurance.
The closure is compatible with 38-400 standard pharma packaging bottles and existing filling lines and can withstand the sealing process. Berry offers a wide range of pill jar bottles in different dimensions and shapes to match the closure. Test and programming software packages are available for both automatic and manual filling operations.
¨This is a very advanced closure that provides extra benefits from the data it can amass, but it was important that it looked and felt the same for the patient, so as not affect or influence their usage in any way," said Berry Healthcare business development director, Chad Rice. "That is what makes our Digi-Cap so unique, in that it matches our standard 38mm child-resistant closures while incorporating this innovative technology."
This article was created in collaboration with AIPIA (the Active and Intelligent Packaging Industry Association). For a full update on active and intelligent packaging, come along to the AIPIA World Congress (co-organized by Packaging Europe) in Amsterdam on 14-15 November. The only smart packaging event covering the entire technology spectrum, the World Congress is a meeting place for the global active and intelligent packaging industry where brand owners, innovators, and other stakeholders can network and see and discuss the latest trends and innovations. Register to attend here.