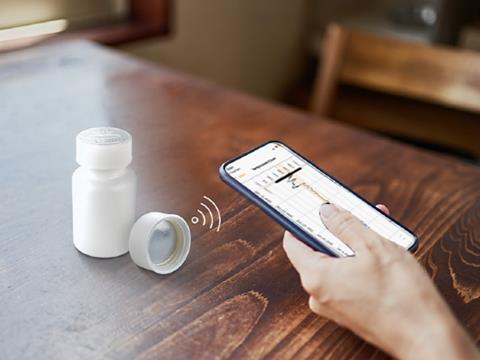 Berry Global is releasing a child-resistant closure with integrated digital technology that stores data to understand more about the way patients use certain medicines.
Thought to be suitable for clinical trials, drug development, research, and academic studies, the Berry Digi-Cap features a microprocessor that records and stores the history of consumers' use in its memory. It is activated when a patient pushes down to open the closure, with the recorded information transferred via NFC to external devices such as smartphones and PCs to be viewed and analysed further.
The data can be uploaded to a patient-facing mobile app, which is compatible with Android and iOS platforms, and to web portals to be reviewed and utilised by healthcare professionals for optimising treatment plans.
Data regarding patient behaviour is expected to contribute towards the understanding of a medicine's adherence and effectiveness in relation to prescribed regimes. The closure also monitors and logs temperature storage levels, which can apparently provide data for research and development.
KISICO and Colysis have revealed a smart and secure closure for medical products with an NFC tag that can be customised to fit the packaging and product it is attached to.
Additionally, Silgan Dispensing has launched its MeaSURE closure with a built-in chamber to deliver controlled dosing for laundry, cleaning, automotive, and personal care products.