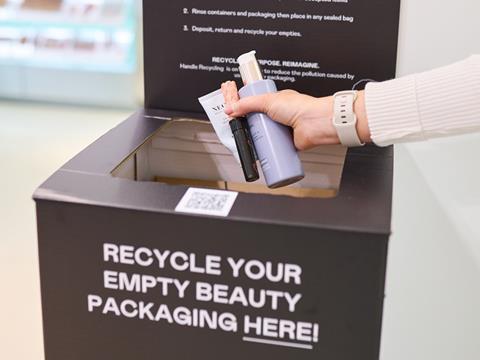 Marks & Spencer and beauty recycling expert HANDLE are launching a Beauty Takeback Scheme in a bid to keep hard-to-recycle beauty packaging in the loop and out of landfill.
Consumers shopping at M&S will be encouraged to return plastic or aluminium beauty packaging components from any retailer to dedicated boxes found in the in-store beauty section. The HANDLE programme aspires to develop a take-back and recycling system in which new packaging and products will be created from the collected materials, facilitating a circular system.
It is hoped that over two tonnes of empty beauty packaging from bottles and tubes to caps, pumps, and tubs will be collected within the first twelve months. Until 5th July 2023, M&S customers will also receive a 10% discount on beauty products by scanning the QR code on the Beauty Takeback box, which will then apply the offer to their Sparks Hub as part of the retailer's customer rewards scheme.
"We're passionate about creating simple solutions that help our customers live lower carbon lives," said Carmel McQuaid, head of ESG at M&S. "Plastic is one of the biggest challenges facing the beauty industry and whilst there is still lots more to do, we hope this scheme encourages customers to recycle their beauty empties to give them a second life and reduce the amount of packaging that goes to landfill. Alongside our other schemes, including Shwopping and plastic takeback, it's one of the many ways we're driving the circular economy on our roadmap to net zero."
Tom Murgatroyd, co-founder of Handle Recycling, added: "We are thrilled to announce our partnership with M&S, our mission is to reduce the environmental impact of Beauty Packaging and this partnership helps to elevate awareness and action toward this mission to the next level. We seek partners who wish to engage in complex issues and that have talented and committed teams to help and support the goals they set out.
"We aim to support the M&S Plan A initiative with projects that promote reuse and circularity, as both are challenging yet critical aspirations for us all to attain for the sake our planet and future generations."
Plan A refers to M&S' sustainability approach, first launched in 2007. This includes the retailer's claim that it achieved zero waste to landfill (UK and ROI) in 2012, and the plastic takeback scheme launched at its Food Halls in 2019.
More recently, it introduced its 'Bring Your Own Bag' click-and-collect initiative to 251 of its stores. The scheme aims to save an annual 10 million units of plastic and cut down on unnecessary plastic waste.
Earlier this year, P&G designed a 100% plastic pump dispenser that does not need to be dissembled to be recycled with its bottle, while a series of refill containers for skin and eye care products said to contain up to 90% mass-balanced certified renewable feedstock content was recently unveiled by Stella McCartney Beauty.
If you liked this article, you might also enjoy:
McDonald's Director of Sustainability in Europe on the company's approach to packaging sustainability
McKinsey on whether or not on-pack sustainability claims affect consumer spending
Perspectives from industry-leading experts on the EU's Packaging and Packaging Waste Directive revisions
A deep dive into the most important packaging sustainability trends and solutions