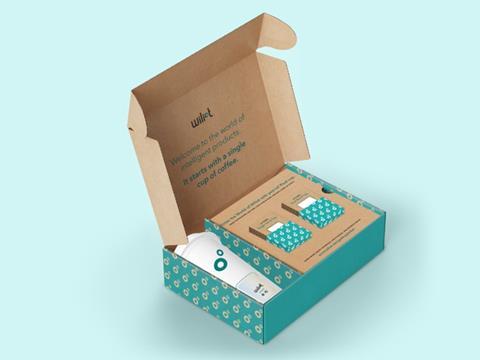 AIPIA member Wiliot, the Internet of Things (IoT) specialist, providing self-powered, stamp-sized computers and cloud-based privacy and sensing which enables "things" to communicate with manufacturers, has announced the launch of the Wiliot Starter Kit.
The kit contains everything retailers need to experience the IoT transformation that Wiliot represents, it says. It includes postage stamp-sized computers – the IoT Pixels – pre-mounted on both cardboard and a coffee cup.
Through the Starter Kit, retailers can explore projects that enable a host of new retail use cases – from enhanced inventory management to consumption monitoring, anti-counterfeiting, product traceability, and more.
The IoT Pixels can sense a range of physical and environmental data, such as temperature, fill level, motion, location changes, humidity, and proximity. The kit also includes small Bluetooth bridge devices that energize and read the IoT Pixel tags. The harvested data is relayed to the Wiliot Cloud via gateways, including smartphones, via the Wiliot mobile app – which is now compatible with iOS and Android devices.
The Starter Kit is on "Open Release", which enables any retailer or brand, of any size and with nearly any budget, to begin working with Wiliot; previously, the company's controlled-release initiative was only open to a select group of the world's largest retailers and brands.
Tony Small, Wiliot's chief business officer, says: "This is a milestone in democratizing the Internet of Things .
"We initially launched at the NRF Retail show in New York because it represents a gathering of the entire ecosystem of industry who will appreciate the power of the Starter Kit and its ability to scale access to Wiliot's vision of IoT. That vision is to transform the Internet of expensive Things to the Internet of everyday Things by adding intelligence and connectivity to everything."
Starter Kits can now be purchased from the company.
In another move, Wiliot and fellow AIPIA member Identiv have announced a partnership. Identiv's new Bluetooth (BLE) IoT Pixels for the mass IoT Market feature built-in logic and communicate intelligently to create an ecosystem of digital products in healthcare, pharma, and smart packaging, including tracking cold chain, temperature, moisture, and movement.
Identiv is a strategic developer and production partner for Wiliot, providing expertise in complex antenna, device, and systems design with a global commercial channel and proven scalability. The BLE tags, known as IoT Pixels, enable monitoring of any everyday item, from vials of medicine to luxury apparel. The partnership is strengthened through Identiv's production processes along with compliance and quality control through its engineering expertise in speciality designs.
Amir Khoshniyati, Identiv VP and GM, Transponder Business, adds: "As we continue our growth as a leading IoT manufacturer and solution provider, we have partnered with Wiliot to meet the production demands of the mass market interested in connecting billions of everyday items simultaneously over-the-air with widely adopted smart devices."
This article was created in collaboration with AIPIA (the Active and Intelligent Packaging Industry Association). Packaging Europe and AIPIA are joining forces to bring news and commentary about the active and intelligent packaging landscape to a larger audience. To learn more about this partnership, click here.