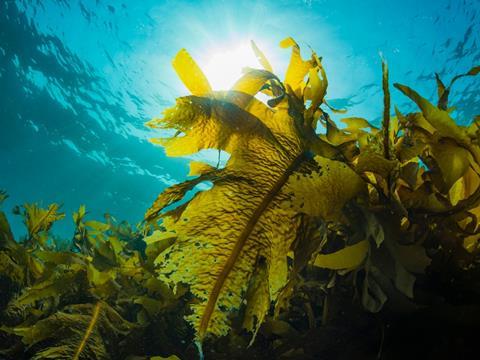 An industry report published yesterday by Phyconomy suggests global interest in seaweed-based materials is growing, with investment doubling and a growing number of start-ups beginning to emerge.
According to the report, the seaweed industry is a relatively small – many actors in the industry remain in the research phase of development, with only 3 start-ups considered 'mature' by Phyconomy. The research group reports that there are 38 start-ups in the 'pilot' phase, while 47 and 51 start-ups are undergoing validation or scaling-up processes respectively.
However, the seaweed industry appears to be a nascent one: more start-ups reportedly entered the field in the past two years than ever before. Start-ups are promoting seaweed as a resource that doesn't require land, fresh water, or fertiliser, instead taking up CO2 and excess nutrients from bodies of water, potentially helping to counteract challenges like eutrophication.
Investment in the industry has doubled, claims Phyconomy, with the number of deals going from 17 to 34 this year. The total overall investment in the industry now stands at around $168 million – a 36% increase, although this could be an underestimate as some deals remain undisclosed. Investment data also suggests that the seaweed industry may be breaking away from the development phase, with both seed and early venture capital rounds also increasing compared to 2020-21.
After food, bioplastics are the second most common application for seaweed start-ups, constituting 36 organisations. For example, France's Eranova has developed the Alg&Bag solution, which creates specific conditions for green algae that reduces its protein content and allows it to be converted into resins for the production of bioplastic products such as food trays and rubbish bags. Meanwhile, Notpla is based in the UK – the European leader for seaweed start-ups – and offers a paperboard material made with 30% seaweed, which can allegedly biodegrade within 6 weeks in a home composting environment.
As for location, seaweed cultivation is more common in countries including China, Japan, Korea, and Indonesia, but Phyconomy has omitted Asia from its study due to lack of data. Therefore, Europe had the most start-ups in the sector (138), with North American (37) and Australia & New Zealand (18) trailing behind.
Interestingly, a concentration of new start-ups in the Caribbean and South America was attributed by Phyconomy as a response to Sargassum tides. These are macro-algae blooms that form 'belts' in the Atlantic Ocean and Caribbean Sea, threatening the ecosystems of local seagrass, reefs, and beaches when they move towards the shore. A relatively new phenomenon in terms of severity and frequency, studies are beginning to link Sargassum tides with rising deaths among marine species like fish and crustaceans, as well as finding pollutants and toxins like arsenic and manganese in the blooms.
An example of projects seeking to address this include SOS Carbon, which offers a plug-in Sargassum collector solution, which breaks the Sargassum down with a pump system until it sinks. Currently, there are little to no value-added products that can be made with Sargassum, which begins to point to some of the challenges emerging alongside the seaweed bioplastics industry.
Seaweed for Europe notes a necessary distinction between harvesting wild seaweed and seaweed farming. Seaweed farming is the newer but emerging format, largely untested. As such, the large-scale environmental impacts are uncertain.
On the one hand, some research points to benefits such as carbon sequestration; on the other hand, altering the conditions of particular ecosystems to increase the production of seaweed and algae, as well as the increased presence of these organisms themselves, could have negative ripple effects for other species. The sustainability benefits of seaweed also rely on its proper management – if the seaweed is allowed to rot, for example, it could re-release any carbon it has absorbed, undermining its sequestration potential.
Another challenge is scaling these technologies. This is linked with government regulation, which so far has restricted the commercial production and use of seaweed in regions like Europe and North America, Phyconomy says. Additionally, in places like Indonesia where the seaweed industry is more established, there are urgent calls to improve biosecurity and traceability, alongside occupational health for people working in the sector, in order to ensure safety and sustainability.
Nonetheless, interest in the industry remains, and there have been calls from a number of organisations to continue investing in and expanding the potential of related solutions. The Bezos Earth Fund's $100 million grant to WWF made up a significant proportion of the 2020 uptick in funding in the industry, as the WWF is planning to dedicate one-third of the investment into building seaweed aquaculture capacity – suggesting that developments in the seaweed industry, including innovations in packaging, are likely to continue.