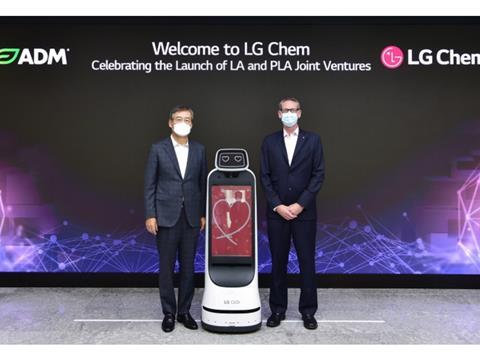 LG Chem is collaborating with Archer Daniels Midland Co. (ADM) to spearhead two joint ventures, GreenWise Lactic and LG Chem Illinois Biochem, and push towards the commercial production of bioplastics.
With ADM providing their processing technology and agricultural supply chain and LG Chem their development of plant-based materials, it is hoped that the projects will result in enough pure lactic acid to produce polylactic acid (PLA) on a commercial scale, as well as using it to develop a number of high value-added biomaterials.
Based in Los Angeles, GreenWise Lactic is set to produce an estimated total of 150,000 tons of high-purity, corn-based lactic acid every year. Subsequently, LG Chem Illionois Biochem aims to produce 75,000 tons of bioplastics, or 2.5 billion 500ml bioplastic water bottles, every year – a figure that hopes to match an annual 22.7% rise in demand.
Construction of the production facility is set to begin in 2023 in Decatur, Illinois, and is expected to be completed in late 2025 or early 2026. LG Chem is said to be the first Korean company to build a PLA plant with integrated production capacities ranging from raw materials to the final product.
ADM CEO Juan R. Luciano said, "Sustainability is one of the enduring global trends that is powering ADM's strategy and growth.
"We're pleased to expand our collaboration with LG Chem, and we're planning to take the next growth step, greatly expanding our ability to meet growing demand for plant-based solutions."
Hak Cheol Shin, chief executive at LG Chem, added, "The establishment of this joint venture is a sustainable growth strategy that can directly contribute in solving environmental issues such as climate change and waste plastics.
"Based on eco-friendly materials, which is an axis for new growth engines, we will respond to the rapidly changing market and customers, while becoming a market leader."
Back in 2021, Total Corbion launched Luminy PLA, made with chemically recycled waste from industrial and consumer use alike.
Earlier this year, we discussed the potential difficulties of commercialising biobased materials, from market prices to the rethinking of packaging systems.