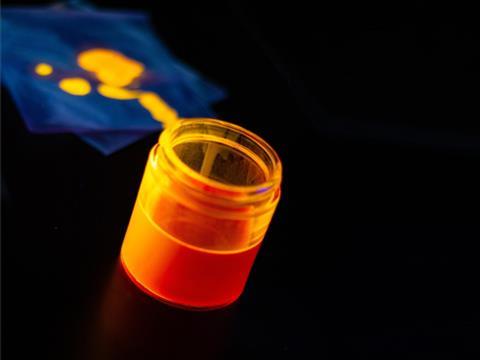 UbiQD, a New Mexico-based nanotechnology company, and AIPIA member SICPA, a Swiss technology company supplying security inks and secured authentication, identification, traceability and supply chain solutions, have announced the expansion of their partnership in the development of anti-counterfeit security inks based on UbiQD's quantum dot technology.
Quantum dots (QDs) are semiconductor nanoparticles that exhibit high-efficiency photoluminescence over a wide range of tunable colours, making them effective at imparting unique optical properties. Their ability to emit different wavelengths of light means they are also being developed as an alternative to dyes and pigments for security features, as they are very difficult to reproduce, so are useful in combating counterfeiting.
The optical properties can be programmed into the materials by modifying the conditions in which they are manufactured, leading to different sizes, shapes and compositions. That could give them an advantage over the current generation of security inks, which have optical spectra potentially vulnerable to reproduction.
Security features based on QDs are inherently very difficult to reproduce and can be used to combat counterfeiting and strengthen security applications, the companies explain. Previously development of QD production for these applications has been hampered by the high cost of the technology and possible toxicity issues, it has been claimed.
"This partnership with UbiQD has enabled us to develop cutting-edge optical and machine-readable features," said Scott Haubrich, R&D director of SICPA USA. "We will be able to add to our robust portfolio of security inks and solutions for our clients," he added.
The two companies have been co-developing QD-based security features for the past six years. Having completed a number of technical milestones in a multi-phased joint-development program, the partners are now expanding their collaboration to commercialize several security applications based on the novel characteristics of UbiQD's technology.
"With SICPA's domain expertise and leading position in security markets, and its proprietary sensor and ink technologies, UbiQD has an ideal partner to commercialize our quantum dot technology for anti-counterfeiting, brand protection, supply chain integrity, and more," commented Hunter McDaniel, UbiQD CEO.
This article was created in collaboration with AIPIA (the Active and Intelligent Packaging Industry Association). Packaging Europe and AIPIA are joining forces to bring news and commentary about the active and intelligent packaging landscape to a larger audience. To learn more about this partnership, click here.