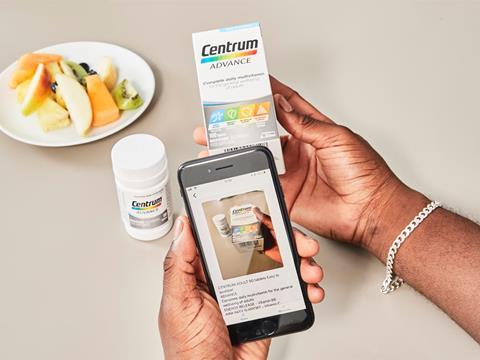 To mark World Sight Day on 13th October, Haleon and Microsoft are launching a joint project to make health products more accessible for blind and visually impaired consumers, using Artificial Intelligence (AI) technology that narrates the labels of products.
New enhancements in the free Microsoft Seeing AI app will help advance inclusivity and improve accessibility, they say.
Across the UK and USA, consumers will be able hear important label information for over 1500 everyday consumer health products such as Sensodyne, Centrum, Aquafresh, ChapStick and Emergen-C. Haleon, a global leader in consumer health, will be participating in a Brand Challenge at the upcoming AIPIA World Congress on 14/15 November, in Amsterdam.
This new collaboration will help people who are blind, have low-vision or have difficulty with reading the labels of products due to low literacy. Expanding functionality in the Microsoft Seeing AI app will provide more detailed labelling information for this community of consumers.
With the launch of Haleon's 'Always Read the Label,' campaign for World Sight Day, these consumers are able to read labels through Seeing AI by scanning the barcode on Haleon products.
They will be able to hear important information, such as name, ingredients, and use instructions. Through the enhanced functionality that Seeing AI offers, Haleon will help empower people to care for their own health independently.
According to the UK National Health Service (NHS) more than 2 million people are living with sight loss while the National Literary Trust reports 8.5 million people in UK have very poor literacy skills.
In an independent study of visually impaired people commissioned by Haleon, 93% of respondents said they don't feel health products are accessible enough and almost 1 in 5 have taken the wrong dosage as they couldn't read the packaging effectively.
The Seeing AI App was developed by a team of Microsoft engineers headed by project lead and engineering manager Saqib Shaikh, who lost his sight at the age of seven, and was driven to develop the app by his passion for using technology to improve people's lives.
He commented: "I'm really excited to see the launch of this enhanced product recognition functionality, developed in collaboration with Haleon. Seeing AI's intelligent barcode scanner plays audio cues to help users find the barcode, and now the information displayed is coming straight from the manufacturer, providing richer information. This can be invaluable for someone who cannot read the label, leading to greater independence."
Tamara Rogers, chief marketing officer at Haleon added: "Helping people access vital information on our products is one of our first initiatives to make everyday consumer health more inclusive. We hope the capability to narrate labels across Haleon's products brings greater independence to our consumers.
We have set ourselves the goal of helping 50 million people to be more included in opportunities for better everyday health by 2025. We are doing this by tackling three big barriers that we know put everyday health out of reach for too many of the world's citizens: Health Literacy, Healthcare Accessibility and Bias & Prejudice."
The Microsoft Seeing AI App is free to download from the Apple App Store, and will be available on Android in the future. Users simply hold their phone camera over the existing barcode on the packaging.
The app will read out the product name and all text on the packaging. The user can skip ahead or move back to the relevant section. There are plans to expand globally and add additional languages in the future.
Want to put yourself at the forefront of smart packaging innovation? Click here to get your tickets for the AIPIA World Congress, which takes place in Amsterdam on the 14th and 15th of November 2022.
This article was created in collaboration with AIPIA (the Active and Intelligent Packaging Industry Association). Packaging Europe and AIPIA are joining forces to bring news and commentary about the active and intelligent packaging landscape to a larger audience. To learn more about this partnership, click here.