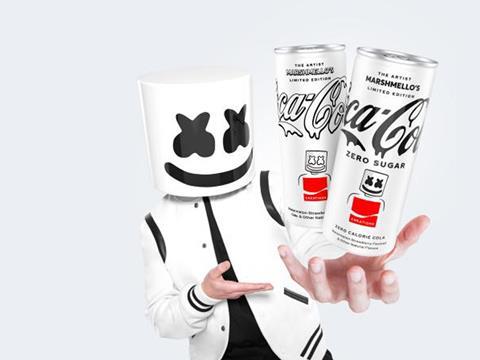 A number of major beverage and spirit brands continue to adopt QR to connect with customers, while one whisky company is even helping them to disconnect through packaging.
Coca-Cola has another new flavour, this one a collaboration with masked DJ and music producer Marshmello. It is the third product out of the innovation platform Coca-Cola Creations and, rather than marshmallow it has notes of strawberry and watermelon, according to the company.
The new flavour is getting the full Coca-Cola Creations digital treatment. On July 9, it appeared on Marshmello's Twitch channel. Starting on July 25, consumers were able to scan a QR code on the can to reach Coca-Cola Creations' site. There, "AI technology will transform their emotions while listening to Marshmello's latest track into a personalized piece of digital art," said the company.
The new flavor, which also comes in a zero-sugar variety, is now available in the USA for a limited time. It will be offered in other countries later this summer. The electronic music producer was revealed several years ago to be Christopher Comstock. He continues to wear a marshmallow-like cylindrical mask in public.
Meanwhile, Rio Tinto has announced, in partnership with Corona Canada, the launch of Canada's first specially-marked, low-carbon beverage can, manufactured by Ball Corporation.
The cans, now available through a pilot in Ontario, were made using aluminium from Rio Tinto and leveraging ELYSIS™ technology, which eliminates all direct greenhouse gas emissions from the aluminium smelting process and emits oxygen as its by-product. As part of this limited release, 1.2 million cans were produced with a QR code to inspire consumers to learn more about the cans' low carbon footprint.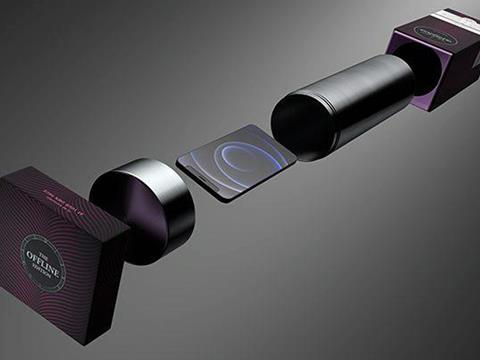 Putting sustainability at the forefront, Jameson 18 Years Irish whiskey will now be presented in new, lightweight packaging with the original box redesigned as fully recyclable cardboard complete with foiled accents. The packaging redesign aligns to Irish Distillers' and Pernod Ricard's broader sustainability commitments by focusing on minimising waste at every step by fostering and applying a circular mindset across the business.
In addition, the new packaging will feature a scannable QR code which will direct Jameson fans to a virtual guided tasting hosted by the Master Distiller, Kevin O'Gorman.
Brendan Buckley, global marketing director at Irish Distillers, commented, "Over the past number of years, we as a business have been successful in devising and implementing new ways of reducing the environmental impact of our packaging through redesign and experimentation with new materials, all of which is reflected in the updated Jameson 18 Years packaging."
Many adults are tempted to check their mobile phones while socialising, or even get distracted by someone else's screen lighting up at the table. In an unusual twist, Glengoyne whisky aims to curb these temptations and distractions with its The Offline Edition whisky box, which doubles as a digital 'black spot.'
Based on the original Faraday cage invented by scientist Michael Faraday in 1836, the secondary packaging—which holds a 700ml bottle of Glengoyne Legacy Series: Chapter Three whisky—includes an aluminum inner cylinder that can block out electromagnetic signals for up to four smartphones. Glengoyne hopes to bring back the joy of connection and in-person communication while helping consumers temporarily disconnect from their digital lives.
This article was created in collaboration with AIPIA (the Active and Intelligent Packaging Industry Association). Packaging Europe and AIPIA are joining forces to bring news and commentary about the active and intelligent packaging landscape to a larger audience. To learn more about this partnership, click here.