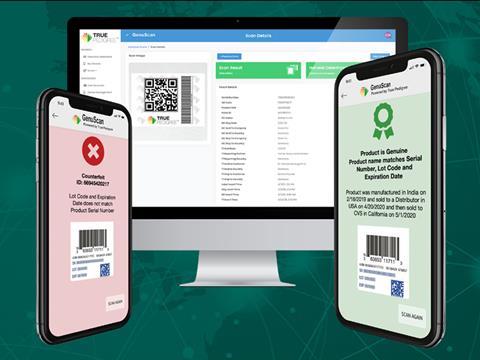 True Pedigree, a technology company helping brands protect themselves from losing revenue due to counterfeit and grey market products, has launched GenuScan, which it claims is a 'powerful' new platform that lets users determine the provenance, destination, and legitimacy of products by scanning them via a smartphone.
A secure, cloud-powered platform enables the platform to analyze the products — be it through its label, RFID, or NFC tag — and determine if it is genuine or not.
The company has developed expertise in the challenges of supply chain integrity, with deep knowledge in the high-tech, automotive, consumer electronics, lifestyle accessories and pharma sectors, it says.
Its new platform will empower brand owners, retailers, auditors, consumers, and law enforcement personnel to identify counterfeit and grey market products.
The value of counterfeit and grey-market products is expected to reach close to $3 trillion during 2022. Products sold through the grey market can dilute brand integrity, slow distribution pipelines, and upset pricing models across entire industries, on top of their considerable fiscal impact.
GenuScan solves the mystery of product authenticity in the marketplace with a simple smartphone scan, according to its creators.
"Protecting IP is a cat-and-mouse game because counterfeiters and grey-market operators move quickly and are good at covering their tracks," says Shelley Raina, CEO of True Pedigree.
"Every product out there features multiple data points including serial number, SKU, date or place of origin, and every step along a delivery pipeline provides specific information about a product. Most of this data goes untapped, but GenuScan uses this information to instantly verify any product's legitimacy while providing invaluable analytics and KPIs through a customizable dashboard."
GenuScan is an intuitive front-end technology-agnostic platform that harnesses the wealth of printed or digital information on any product to determine its origin and authenticity. It is fully customizable to work for any user, from a retail employee, manufacturer auditor, or law enforcement official.
The new platform makes protecting brand identity and revenue faster and simpler than ever before, allowing companies to take proactive steps to mitigate risk before illicit products are deployed in the market, states True Pedigree.
This article was created in collaboration with AIPIA (the Active and Intelligent Packaging Industry Association). Packaging Europe and AIPIA are joining forces to bring news and commentary about the active and intelligent packaging landscape to a larger audience. To learn more about this partnership, click here.