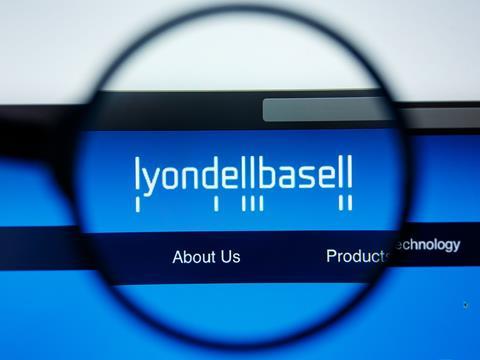 LyondellBasell has made a final investment decision to build an industrial-scale catalytic advanced recycling demonstration plant for its proprietary MoReTec technology – set to convert 50,000 tonnes of post-consumer plastic waste into feedstock every year.
Reportedly, the plant in Wesseling, Germany, will be the first commercial-scale, single-train advanced recycling plant to convert post-consumer plastic waste into feedstock for new plastic production at net zero greenhouse gas emissions. It is designed to recycle over 1.2 million German citizens' yearly waste output.
MoReTec is a process that produces pyrolysis oil, used as a substitute for fossil-based substances in the production of polymers, and pyrolysis gas. While the latter is usually consumed as a fuel, LyondellBasell's technology is said to recover the gas as another feedstock, thus cutting down on direct CO2 emissions.
Furthermore, LyondellBasell reports that the catalyst technology lowers the process temperature, improves yield, and cuts down on energy consumption. As such, it can be powered by electricity, including electricity generated from renewable sources at net zero greenhouse gas emissions.
A combination of pyrolysis gas recovery, the replacement of fossil feedstocks, diminished energy demand, electrical heating design, and the diversion of waste plastics from incineration and landfill is expected to have a positive effect on carbon footprint compared to fossil-based processes.
LyondellBasell hopes that the MoReTec demonstration plant will overcome the roadblock of recycling mixed and flexible materials, among other hard-to-recycle plastics – diverting them away from landfill or incineration. Construction is scheduled to end in 2025.
Most of the sorted processed feedstock will be supplied by Source One Plastics, a joint venture of LYB and 23 Oaks Investments formed last year. The resultant feedstock will produce polymers sold under LyondellBasell's CirculenRevive product line, which will be used in such applications as medical and food packaging.
"We are committed to addressing the global challenge of plastic waste and advancing a circular economy, and today's announcement is another meaningful step in that direction," says CEO Peter Vanacker. "Scaling up our catalytic advanced recycling technology will allow us to return larger volumes of plastic waste back into the value chain. By doing this, we will have the ability to produce more materials for high-quality applications, retaining value of plastics for as long as possible."
The news comes after Nestlé's £7 million investment into the opening of Impact Recycling's new recycling plant, which plans to convert hard-to-recycle flexible plastics into pellets to produce new flexible packaging.
Mura Technology's first commercial-scale HydroPRS advanced plastic recycling plant is also designed to process 'unrecyclable' flexible and rigid mixed plastics into recycled hydrocarbon feedstocks for the further production of plastic.
If you liked this article, you might also enjoy:
The L'Oréal approach to packaging sustainability
The way we talk about plastic needs to change – here's how to get it right
What steps is Apple taking to make its packaging more sustainable?