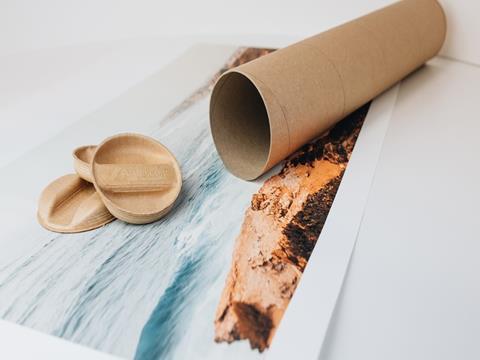 Scandicore, a leading manufacturer of cores and tubes for the manufacturing industry, has launched paper tube lids made with PulPac's Dry Molded Fibre technology, with the first art print deliveries featuring the new lid estimated to reach consumers in Spring 2022.
PulPac will supply Nordic-based Scandicore with bridge volumes based on its Dry Molded Fibre technology, which allows cellulose to be moulded into hard, durable packs. The patented technology is reportedly faster and more cost-efficient than traditional methods for moulding cellulose, while providing companies with an alternative to single-use plastic.
PulPac's technology is now available to convertors that set up their own production. To accelerate the shift, PulPac has developed the PulPac Modula standardised machine platform, which is available at the PulPac Tech Center for samples and bridge volume production.
One of Europe's leading online stores for art prints will be first in line to offer their products in completely plastic-free and fibre-based packaging from Scandicore.
Eva Engström, CEO at Scandicore, comments: "The physical strength of the Dry Molded Fiber products, in combination with resource efficiency, where valuable water resources and energy are saved, in addition to significant reductions of CO2, makes this a strategic investment for Scandicore.
"We have been listening to the market. This solution is heavily asked for by our customers and we are proud to start the journey to support the green and sustainable choice of our customer."
Sanna Fager, chief commercial officer at PulPac, adds: "We offer a 'wheat to bread' setup, delivering application development, toolmaking, and sample production to ease the transition to Dry Molded Fiber.
"In close collaboration with our clients, we develop competitive, and sustainable market-ready applications.
"The paper tube lid is a perfect fit for our technology, and we are happy to partner with Scandicore to bring this unique solution to the market."
In 2020, PulPac unveiled its first fully automated pilot line, which feeds raw paper pulp through a mill, where it is broken up, formed into a web, and then passed through a standard plate press to compact the fibre into a mould. Last year, the company also launched its first-ever standardised production line, PulPac Production Unit 300 ton (PU300), which enables food-grade production of high volumes of dry moulded fibre products.
PulPac's Dry Molded Fiber technology was a finalist in Packaging Europe's 2021 Sustainability Awards.