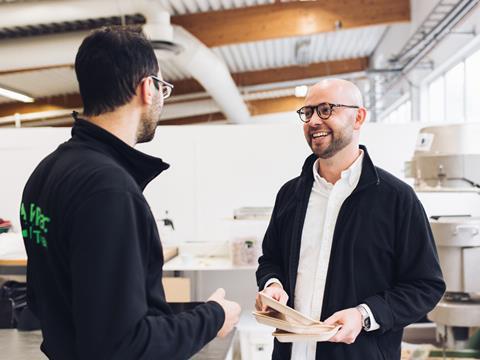 Founded in 2015 by a father and son team, PulPac owns a patented technology that allows the moulding of cellulose into hard, durable packs. And, following five years of innovation and graft, its technology is beginning to generate increased funding and interest from investors. So, what makes this solution stand out? Fin Slater spoke to CEO, Linus Larsson to find out.
Could you explain what PulPac is?
PulPac is a production technology for dry moulding cellulose into packaging and single-use items. Just like the method of thermoforming enables effective production of items made of plastic, PulPac enables the effective production of items made of cellulose. It presents the opportunity for converters to shift from producing plastic products to sustainable ones made of pulp or conventional pulp converters a great opportunity to increase their margins.
Dry moulding is the core of the PulPac innovation and what our patents comprise of. It makes the process fast and cost-effective compared to traditional methods of moulding cellulose. Hence, the production cost for a product produced with the PulPac technology is competitive compared to both plastics and existing paper products made with traditional methods.
We don't produce any end-user products ourselves – we are an R&D and IP house and offer PulPac on license. To put it simply, the innovation is available to anyone who wants to save the planet from single-use plastics. Time is short and to make a difference, licensing is the only way to extremely quickly scale new technology. Our ambition is to disrupt the packaging industry and turn it in a sustainable direction.
Please could you explain the R&D process that lead up to the creation of the PulPac technology?
The method of dry moulding cellulose was invented in 2015 and patented in 2016 by me and my father, Ove Larsson. At the time we were both working in an independent packaging innovation consultancy. We ran several large innovation projects for the packaging industry and realised the environmental madness of continuing to produce packaging and single-use products made of plastics. We also realised that commercially viable and sustainable alternatives did not exist. One could get either one or the other. Not both combined.
Fibres from trees, cellulose, stood out as the only sustainable alternative that could supply enough raw material to actually replace plastics at scale. Being aware of the drawbacks of traditional methods of moulding cellulose we experimented with dry moulding. The breakthrough came as we placed cellulose from an ordinary baby diaper in a sheet metal press. Using a little heat, we managed to 3D-shape the diaper into a rock-hard product in seconds. Dry moulded fibre was invented.
PulPac AB today employs 20 people, most of whom are R&D engineers, with the single task of making dry moulded fibre available to all the world's converters and making an impact at scale in replacing plastics.
What applications/demand does the technology seek to meet?
Plastic pollutes our environment and has become a veritable threat not only to ocean life but to all living creatures on the planet. Microplastics have been found in every corner of the world, from the Mariana Trench to the most remote mountain tops. Plastic waste is everywhere – and it doesn't break down. For example, a single-use plastic coffee lid that we use for 15 minutes will last for hundreds of years. Plastics are simply "overqualified" for single-use.
However, consumer demands, regulations, and bans are forcing brands and converters to phase out items made of plastics. The dilemma is that there have been few or no alternatives viable from both the sustainable and commercial point of view. PulPac technology can fill this gap. It enables the shift from single-use plastics to a sustainable and viable alternative that is competitive enough to make change happen and set a new standard within the packaging industry.
With new technologies, there are, of course, low hanging fruits and there are others that require further development. PulPac can be used for most packaging and single-use items but is most suited for high volume products. At this early stage, we focus on the most viable applications. In short, the harder the barrier, the more R&D it will take. PulPac is an R&D and IP house and we constantly look for, develop and improve barriers, depending on what is being requested.
We are currently working with clients in the foodservice/takeaway segment and consider it a big potential market for PulPac. The foodservice sector has a lot of single-use plastic products that need to be replaced, both due to new legislation and consumer demand. And of course, to save the planet! We are also working in the grocery segment as well as "non-food". In the latter, our client, Ekoligens, is presently setting up big volume production of paper hangers using our technology.
What makes PulPac technologically innovative/interesting?
The innovation of new manufacturing technologies is not very frequent. For example, the method of wet moulding that the industry still uses today was invented some hundred years ago. A new technology for moulding of cellulose is ground-breaking even if the innovation itself consists of known technologies and materials combined in a new way.
Dry moulding makes the process extremely fast and cost-effective which is a prerequisite for change to happen. The dry method also gives a very good mould replication, which enables, for example, high-quality embossing. Another benefit is that we can easily make coloured or patterned products. The technology also gives us very good control of material thickness. We can produce very stable/sturdy and thick products, as well as thin and material-effective products.
What are your expectations for the future of Pulpac?
PulPac currently has a handful of licensees and partners. Right now, our focus is to get production capacity up and running at our licensees. Scalability is our number one challenge. We need to make PulPac Machinery, which is a combination of available machinery adapted to our process, available on the global market. Lead times to get all equipment in place are long, at least from an entrepreneurial view. The demand for our technology is massive. That, in turn, puts high demands on our partners that supply the equipment and machinery.
We expect to publish several exciting global projects during the coming year and will for sure promote market launches together with our partners and clients, although this news is currently under embargo. The plan is that products will be launched throughout 2020.
Within a few years, we aim to be fully global and have hundreds of industrial PulPac production lines that annually produce billions of plastic-free and completely degradable products. Our goal is to make change happen and make an impact at scale. Our ambition is to disrupt the packaging industry and set a new and sustainable standard for packaging and single-use products.