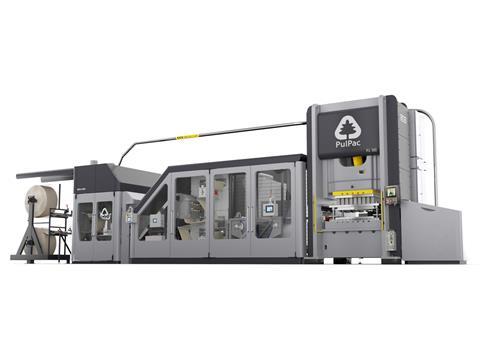 PulPac, the inventor of a process that allows the moulding of cellulose into hard, durable packs, has revealed its first-ever standardized production line – the PulPac Production Unit 300 ton (PU300).
The PulPac PU300 is engineered as a modular industrial production line, ready for the food-grade production of high volumes of dry moulded fibre products.
The first demonstration line has been set up in PulPac's Tech Center in Sweden, where industrial food-grade manufacturing of spoons made from pure cellulose fibres has begun.
The starting annual capacity is 230 million spoons, which the company hopes can meet demand once the EU-wide ban on non-sustainable plastic cutlery comes into effect on July 1st this year.
PulPac says that its dry process enables the PU300 to run "extremely fast". The company also claims that cycle time and production rates are on par with plastic manufacturing, and up to ten times faster than conventional fibre moulding. Further, it reports that dry moulding doesn't waste water resources or impact the wastewater infrastructure.
The process is also reportedly more energy-efficient than conventional fibre moulding and enables material efficiency of up to 99% with in-line recycling. In summary, PulPac claims that these process advantages yield up to 90% lower CO2 emissions at similar unit costs as plastic.
"The PU300 machine platform is a milestone for making affordable fibre-based packaging globally available," says Linus Larsson, CEO and co-founder at PulPac.
"To meet the massive interest from brands and converters, we are now scaling supply chains by building a global community of world-leading dry moulded fibre suppliers. We welcome converters, machine builders, brands, and fibre providers to join us and transform the industry from within."
"Simplifying the transition and support we give to our clients so that they can get going with their own dry moulded fibre manufacturing is a core priority in order to reach our goal of replacing more than one million tonnes of plastic by 2025."
The first dry moulded fibre products are set to reach the market in a variety of segments this year.