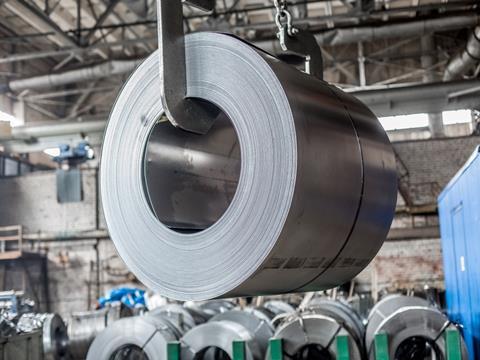 H2 Green Steel has announced that it has already signed off-take supply agreements for over 1.5 million tonnes of its so-called green steel, which will be produced from 2025 onwards at the Swedish company's Boden-based steel plant. The plant will reportedly be fully integrated, digitalised, and automated while running on renewable energy. What does this mean for the European steel industry?
Anticipating demand
Founded in 2020, H2 Green Steel's goal is to accelerate the decarbonisation of the steel production process by building a large-scale, hydrogen-based, green steel plant in northern Sweden. The plant will reportedly use a fully integrated production process with end-to-end digitalisation, electricity from fossil-free sources, and green hydrogen instead of coal.
The company is aiming to start production at its Boden site by 2024, and to reach an annual production capacity of 5 million tonnes of green steel by 2030.
Henrik Henriksson, CEO of H2 Green Steel, explains: "Presently, the term green steel can mean different things.
"To us it means steel produced from a combination of a significant amount of green virgin iron and scrap in a production process which uses electricity from renewable energy sources and where the total CO2 emissions are more than 90 percent lower than that of traditional steelmaking in a blast furnace process.
"Recycling scrap is part of the equation, but it will not be enough to meet the global demand for steel. We need to make sure that all the new steel is truly sustainably produced."
H2 Green Steel is intending to scale high-quality green steel in the near future though collaboration with customers from segments including automotive, white goods, furniture, and industrial equipment.
This month, H2 Green Steel has announced that it has signed customer contracts for more than 5 to 7 years with a range of cross-industry players. The deals cover over 1.5 million tonnes per year out of the planned initial yearly production volume of 2.5 million tonnes, according to the company.
Companies that have signed term sheets or supply agreements for steel with H2 Green Steel include Adient, BE Group, BILSTEIN GROUP, BMW Group, Electrolux, Kingspan, Klöckner & Co, Lindab, Marcegaglia, Mercedes-Benz, Miele, Mubea, Purmo Group, Roba Metals, Scania, Schaeffler, Zekelman Industries and ZF Group.
According to H2 Green Steel, many of its customers have signed up for Science-Based Targets that cover scope 3 emissions, in addition to scope 1 and 2. Scope 3 emissions cover the sourcing of raw materials.
Mark Bula, chief commercial officer at H2 Green Steel, says: "Customers are putting significant value in the CO2 reductions achieved in the high quality hot rolled, cold rolled and galvanized steel we will deliver to them.
"It's amazing to see how fast the sentiment in the market has changed since our introduction a year ago. The demand for green steel by far exceeds what I had expected, and the interest is coming from a broad range of industries.
"We are already converting this volume into binding long form agreements with our customers."
H2 Green Steel claims that these agreements demonstrate that the technology for making green steel is viable, with customers willing to pay premium prices for supply.
Henriksson adds: "When we launched H2 Green Steel about a year ago, we kicked the transformation of the steel industry into a new gear and other players in the industry have moved up their timelines.
"We are leading the way, showing that it is possible to transform the carbon-intense steel industry quickly, and others are speeding up and stepping up. This is exactly what we want.
"On top of that, the feedback from customers has been phenomenal and their long-term commitments are key for us to scale up further."
The decarbonisation challenge
After China, H2 Green Steel reports that the EU is the second-largest steel producer in the world, producing around 170 million tonnes of crude steel a year from more than 500 plants across Member States.
However, the EU's share of world steel production has gradually decreased in recent decades, according to H2 Green Steel. This can be linked to challenges including a rise in relative costs; steel is an energy-intensive sector, with energy accounting for up to 40% of operating costs.
In addition, the steel industry reportedly has long and complex value chains. H2 Green Steel explains that during the production process alone, product units must be transported between multiple facilities for steelmaking, rolling, and alloying.
Meanwhile, the steel industry's customer base includes a wide variety of applications that have different distribution channels, financial margins, and quality requirements. The COVID-19 pandemic has further complicated this by distorting supply chains and reducing consumer purchasing power for downstream industries like car production.
With competition from producers in Asia and other parts of the world on the rise, the EU steel industry is also contending with the need to switch to more sustainable production as part of the European Green Deal. As a significant energy-intensive industry, the decarbonisation of steel will be a key to achieving climate neutrality by 2050.
Steel production apparently represents 25% of Europe's industrial CO2 emissions. According to the Mission Possible Partnership, industries like steel are 'harder-to-abate' when it comes to decarbonisation because technological solutions are often associated with higher costs even when readily available, which can mean companies are hesitant to make changes to existing, high-carbon technologies.
The European Commission notes that the EU's steel industry has already reduced emissions by 26% since 1990 by improving energy efficiency and recycling rates, and the EU steel industry is considered one of the most CO2 efficient worldwide. Nonetheless, it acknowledges that "radical changes" are needed to achieve decarbonisation.
Generating support, scaling solutions
H2 Green Steel identifies concerns about investing in new technologies and rebuilding or relocating existing plants when the steel industry is already contending with ongoing supply, demand, and cost challenges. The company is targeting solutions such as digitalisation, which has also been highlighted by the European Commission, to improve resource efficiency and accelerate the transition to new and more sustainable processes.
Similarly, H2 Green Steel's green hydrogen solution – which is produced using electricity – draws on the emerging potential of this energy source as it attracts increasing interest and investment. While a relatively less mature pathway at present, SYSTEMIQ argues that innovations like green hydrogen are necessary to support and enable the transition to a circular economy. The European Commission's hydrogen plan includes a potential investment of up to €470 billion in the segment.
The European Commission adds that the steel industry estimates that it will require around 165 TWh of electricity and 5.5 million tonnes of hydrogen annually by 2050 to make the total current volume of primary steel using hydrogen. This would place its total electricity demand at 400 TWh, which is reportedly four times what the sector currently consumes.
As such, the European Commission warns that the integration of renewables into the energy system, while promising, will need to "keep pace" with steel industry demand to be successful. This will likely require more ambitious commitments and investments from Member States.
H2 Green Steel's proposition is greenfield investment: building new facilities, like the Boden plant, from scratch. As acknowledged by the European Commission, steel production is currently distributed in such a way across Europe that access to renewable energy is uneven; existing facilities may not have access locally even as capacity expands regionally. Therefore, H2 Green Steel's integrated plant in Sweden is intended to tap into the region's renewable energy potential and to make supply chains more efficient by eliminating the need to transport large quantities of steel between different facilities.
As H2 Green Steel highlights, Ursula von der Leyen, president of the EU, said in a speech in 2021: "Clean hydrogen is a perfect means towards our goal of climate neutrality. […] By 2050, we want renewable hydrogen technologies to be deployed at large scale to reach all hard-to-decarbonise sectors in our economy. These are ambitious goals, but they are realistic too."
With 1.5 million tonnes of H2 Green Steel's predicted 2025-onwards volume already claimed by key players in the steel industry, it appears that the segment is willing to invest in solutions that make use of digitalisation and green hydrogen, and to work holistically towards meeting the targets of the European Green Deal. As support from the EU builds, solutions like H2 Green Steel's are likely to continue expanding.