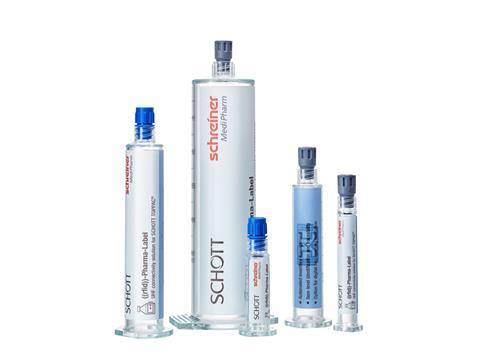 Pharma label specialist Schreiner MediPharm and SCHOTT Pharma, which produces drug containment and delivery solutions for medications, have been engaged in a partnership for several years. Its objective is to develop new smart concepts that add functional value to prefilled syringes.
At the PDA Universe of Pre-Filled Syringes and Injection Devices Conference held recently in California, Arne Rehm, senior product manager RFID/NFC solutions at Schreiner MediPharm and Tom van Ginneken, head of global product management for SCHOTT TOPPAC®, presented a coordinated, newly developed solution to equip prefilled syringes with RFID. The combination of syringe and smart label opens up diverse opportunities to optimize hospital routines, they say.
The partnership has previously been focused primarily on equipping COC syringes with analogue functional labels. Now the two pharmaceutical packaging companies are digitizing prefilled syringes. What makes the new RFID-Labels special, they believe, is the combination of marking the syringe with a unique, digital identity.
This enables optimized processes in hospital inventory management and patient care and documentation, as well as the identification of a medication and a medical device. In addition, digital first-opening indication protects the integrity of the syringe.
To successfully implement this innovation and to ensure excellent RFID functionality, in terms of good performance and adequate range, various characteristics of the prefilled syringe were considered. As well as the material used, such as COC, PP, or glass - which can affect range and trouble-free reading of the tag - syringe size and diameter play a decisive role.
The smaller the syringe the less space for product marking and integration of the RFID chip. Additionally, with a small tag there is usually a shorter read range. Another factor is that the curvature may affect performance, especially in the case of small syringe diameters.
The dielectric properties of the medications contained in the syringe play a role as well. Especially water-based active ingredients, which have a negative impact on the radio transmission performance of a tag.
This requires precise positioning of the RFID label and integrated inlay, according to the liquid and fill level. Additionally, special data standards for identification and tracking on unit level such as UnitVisID or GS1 must be adhered to, as these enable all relevant stakeholders to interpret and use the data, as well as integration within the respective infrastructure.
Schreiner MediPharm and SCHOTT Pharma can adapt the solution to the customer's specific requirements to ensure optimal functionality from production to final use, they claim. This helps enhance product safety and avoid potential medication errors.
Want to put yourself at the forefront of smart packaging innovation? Click here to get your tickets for the AIPIA World Congress, which takes place in Amsterdam on the 14th and 15th of November 2022.
This article was created in collaboration with AIPIA (the Active and Intelligent Packaging Industry Association). Packaging Europe and AIPIA are joining forces to bring news and commentary about the active and intelligent packaging landscape to a larger audience. To learn more about this partnership, click here.